This is the third part of the series on Spiritual warfare.  This segment is entitled, Spiritual Warfare: The Conditions of the mind
For a brief review:  I addressed the fact that we were all born with a sinful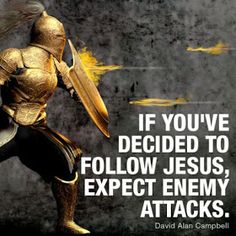 nature, contrary to God—separated from God; that because of God's mercy and grace, he established a way for us to be rejoined with Him, through His son Jesus.  Therefore making a way for us to have a spiritual renewal or rebirth: in other words—born again.  I also established the fact that because of our spiritual rebirth, we have been placed in a war—a spiritual war; a war that is ongoing, and fierce.  That we need to be aware of this war, who is at the helm of the opposing force, and how to fight, and win, this battle.
In the last article, I addressed the fact that it is in the mind where Spiritual Warfare takes place.  Satan attacks the mind—he sends his fiery darts, his evil-negative thoughts directly into our minds.  But we must learn to dispel those thoughts—to cast them out, in the name of Jesus.  One of scriptures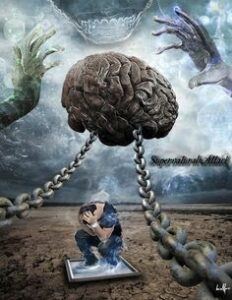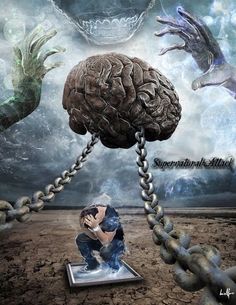 that I covered was what Jesus said in Matthew 12:33: "Either make the tree good, and his fruit good; or else make the tree corrupt, and his fruit corrupt: for the tree is known by his fruit."  Now to repeat He said: make the tree good: now how do we make the tree good?  By feeding it with good fertilizer.  We must feed our trees—our minds with good fertilizer—good thoughts in order to bear good fruit, or a positive life.  So we must dispel Satan's evil thoughts
Satan's attacks, if allowed to nest in our minds can manifest themselves in numerous ways, causing any number of conditions.  So in this article I am going to begin to address the various conditions of the mind.
Let's first look at the normal mind of a Christian.  What makes a Christian's mind tick?  1 Corinthians 2: 13-16
13 Which things also we speak, not in the words which man's wisdom teacheth, but which the Holy Ghost teacheth; comparing spiritual things with spiritual.
14 But the natural man receiveth not the things of the Spirit of God: for they are foolishness unto him: neither can he know them, because they are spiritually discerned.
15 But he that is spiritual judgeth all things, yet he himself is judged of no man.
16 For who hath known the mind of the Lord, that he may instruct him? But we have the mind of Christ.
The normal mind of a Christian is a mind that is led by the Spirit of Christ.
Let's review a passage that I covered in the last article.  Romans 8: 9
9 But ye are not in the flesh, but in the Spirit, if so be that the Spirit of God dwell in you. Now if any man have not the Spirit of Christ, he is none of his.
The scripture says that we are not to be in the flesh, but in the spirit.  If we don't have the spirit of Christ in us, then we aren't his—we aren't Christians.  So again, the normal Christian mind is one that is led by the spirit of Christ.
What we must understand regarding the mind of a Christian is that the mind and the spirit work together.  Let's look at this in 1 Corinthians 2: 11
11 For what man knoweth the things of a man, save the spirit of man which is in him? even so the things of God knoweth no man, but the Spirit of God.
Now what this scripture is saying is that no one knows the thoughts and plans of man, other than himself—his spirit.  The only way anyone else will know, our thoughts, is if we reveal them.  By the same token, no one knows the things—the thoughts, the mind of God other than His spirit.  So the mind and the spirit work together.  The spirit knows what in the mind.
Now when a person receives Christ as His personal Savior, the Holy Spirit comes to dwell in him.  As we have just seen in scripture, the Holy Spirit knows the mind of God.  Now let's take this a little further and look at Ephesians 1: verses 15-23 contain Paul's prayer of revelation for the Ephesians: and in verses 17-18, it reads:
17 That the God of our Lord Jesus Christ, the Father of glory, may give unto you the spirit of wisdom and revelation in the knowledge of him:
Now Paul is praying that God would impart to them (the Ephesians) His Holy Spirit so that He would be revealed to them and they would know more of Him.  Continuing with verse 18:
18 The eyes of your understanding being enlightened; that ye may know what is the hope of his calling, and what the riches of the glory of his inheritance in the saints,
The eye of your understanding is the mind.  The NIV translation actually reads, "the eyes of your Heart" and as I mentioned in the last article, I mentioned that the word translated as heart and soul [leb] (labe)], is also translated as mind.
Since the Holy Spirit dwells in us, and since He knows the mind of God, one of His purposes is to reveal to us, God's wisdom and revelation.  That wisdom and revelation is imparted to our spirit, and our spirit then enlightens the eyes of our hearts—or our minds.
Take a car for example: you have the engine, the transmission, and the wheels.  The power starts with the engine—that's where the power is produced; the power then goes to the transmission; and from the transmission to the wheels, and the wheels move the car.
Now taking this divinely: the engine is God—that's where the power comes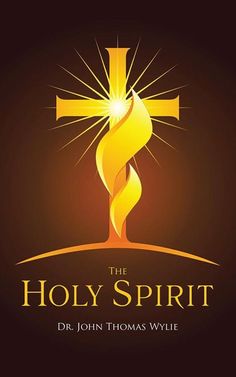 from; it then goes to the Holy Spirit—which is the transmission; and from the transmission, the power goes to the mind—which is the wheels, which moves-controls the body.  The body reacts to the mind accordingly.
Now, if our power comes from God, then our transmission is the Holy Spirit, sending our wheels (our minds) in the right direction; but if our power comes from Satan, our transmission is the flesh, and will send our wheels spinning in the complete opposite direction.
As Born Again Christians, we are both spiritual, and natural.  As I mentioned during the introduction of the series, before we were born again, our flesh-our natural self did the leading.  What ever our flesh wanted, that's what we set out to satisfy.  Whether it was sex, drugs, alcohol, or any overindulgence to appease our flesh, we did it.  But as Christians, our spirits connected to the Holy Spirit is to do the leading But the natural doesn't always understand the spiritual.  So the mind often misses what the spirit is trying to reveal to us, because it's too busy.  A mind that is too occupied is not normal, but abnormal.  The mind is normal when it is at rest.  That doesn't mean that we should have blank minds, but they should be at peace.
Our minds should not be filled with what I call mental junk food.  If we feed our bodies with a constant diet of junk food, and fast food, our bodies will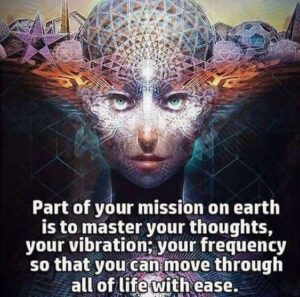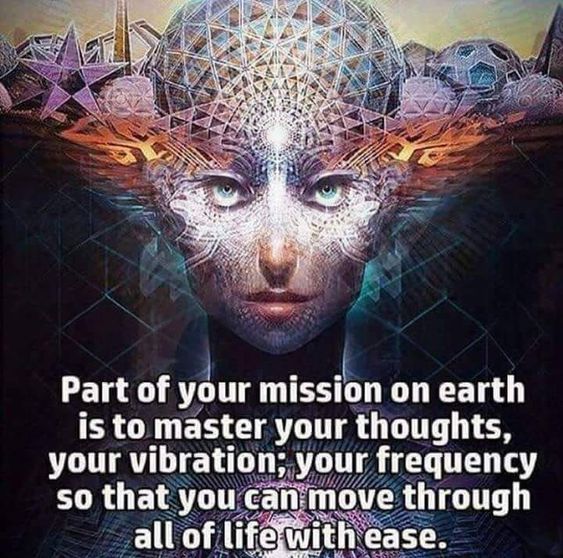 eventually break down.  But this also holds true of the mind. Junk food for the mind consists of: excessive reasoning, worry, anxiety, fears, and so forth.  The mind shouldn't be filled with this junk food, but should be quite, calm and serene as much as possible.  But if filled with mental junk food, the mind just as the body will break down.  I'm sure that we've all heard of the condition: a nervous breakdown.  A condition that results when the mind has had so much of a diet of mental junk food, it becomes so overloaded that it just snaps; breaks down—it simply can't take anymore.  Our minds simply become—a junk yard.  Other conditions include: depression, anxiousness, and anguish.
In addition to being at peace, the mind of a Christian believer should also be alert.  The bible says: "be sober, be vigilant."  That doesn't only mean don't drink.  It means, be alert, clear headed—on the lookout, and on the defensive.
Now this isn't easy because Satan makes it difficult—on purpose—it's his job.  Satan is addressed by several names in the scriptures: For example: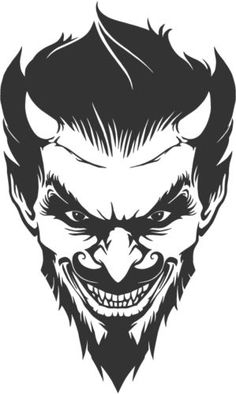 The Prince of this world, and the prince of the power of the air. [John 12:31, Ephesians 2:2]  But if there was such a thing as rewriting the bible, one of the names I would give Satan is The King of Junk.  He is the King of Mental Junk Food—the chief distributor, clogging our minds.  He attacks us, wagering a war against our minds.  He attacks us by attempting to overload and overwork our minds by filling it with every kind of wrong thought—junk, so it cannot be free and available to the Holy Spirit working through our own human spirit.  And Christians are yielding.  There are Christians claiming to walk in Christ's spirit, when in fact they are walking in the flesh.  Why?  Simply because we're feeding their minds with the junk of this world.  [that's future article]  This is why we hear so very little from God.  The reason we hear so little from God is because we can't receive His spirit which leaves us lacking in wisdom and revelation.  Therefore, it is impossible to have a healthy mind when it is loaded down with things it was never intended to carry.  To close on the normal mind, we're going to look at one last scripture: Isaiah 26:3—Isaiah writes concerning the Lord:
3 Thou wilt keep him in perfect peace, whose mind is stayed on thee: because he trusteth in thee.
In order to keep our minds at peace, we must keep our minds on God, and trusting God.  We must visualize ourselves obeying God and being greatly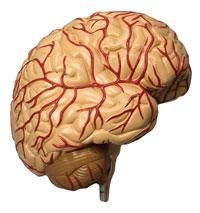 blessed by Him.
Let's now to look at some conditions of the abnormal mind: minds that get clogged with mental junk food.  This junk food manifests itself in ways that cause various ill conditions in the mind.  Much like junk food can do to our bodies.
The first condition is a wandering [waundering] mind.  To wander [waunder] is to move or go about aimlessly, without a plan or fixed destination.  So a wandering mind is a mind that doesn't stay focused on a fixed topic or plan.  Now in childhood, this is one of the leading causes of learning disabilities.  It causes a lack of concentration.  The inability of one to stay focused on a topic or task.  Now to some this is involuntary—they can't help themselves while others do this voluntarily.  I'm sure that most of us can remember daydreaming in class or even in a meeting.  Not because we couldn't help ourselves, we simply wanted to be somewhere else (I know I did).  It was a means of escape to some place, or somewhere else we wanted to be.  But if we do anything long enough, it will become a habit—good or bad.  If we allow ourselves to form a habit of this it can reach near uncontrollable instances, when we should and want to concentrate, but can't.
If our minds are filled with enough anxiety, worry, and confusion—mental junk food, it becomes impossible to concentrate leaving our minds to wander.  Satan loves it!  It prevents Christians from listening to sermons, teachings, Bible studies and receiving from them. While our bodies may be in church, our minds are have drifted to some far place or circumstance.  It can also prevent us from reading and receiving from the Word.  Unable to concentrate, we can just drift off to sleep; and it can cause havoc on our jobs and places of businesses, affecting our communications and sound judgments.
This can be a very subtle process, like all of Satan's destructive works.  It can happen gradually with age.  As we progress further and further into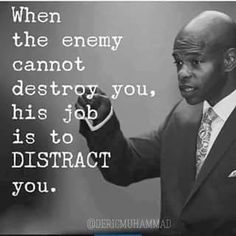 adulthood, our responsibilities increase, putting a greater load on our minds.  And if we aren't careful we'll become complete scatter brains, unable to accomplish anything.
Now the scriptures instruct us on this issue of the wandering [waundering] mind.  Let's look at 1 Peter 1:13
13 Wherefore gird up the loins of your mind, be sober, and hope to the end for the grace that is to be brought unto you at the revelation of Jesus Christ;
Now the people in biblical times would gather up their long robes and tie them around their waists so that they could move more freely and quickly.  We Christians today must also tie up the robes in our minds that can keep them from moving or operating freely.  We need to do whatever it takes to focus our thoughts on those things, that allow us to serve our God successfully; all while eliminating any thoughts that would tie or bind us up.
Let's look at another warning against a wandering [waundering] mind:
Ecclesiastes 5:1
1 Keep thy foot when thou goest to the house of God, and be more ready to hear, than to give the sacrifice of fools: for they consider not that they do evil.
Now to keep your foot means in this case, to be alert as to not slip and loose our balance, and get off track when we go to God's house.  We are to do this, rather than give the sacrifice of a fool.  When we sit in church and allow our minds to wander, to the point that we receive nothing for being there, It's useless to go.  We may make the sacrifice to be there, but it is a useless sacrifice—we're only taking up space.  It is the sacrifice— of a fool.
Now a fool is an individual who has no good sense—to the point that they do evil, and don't even know it.  Now for clarity, here is same scripture from the New Living Translation.  It reads:
1 As you enter the house of God, keep your ears open and your mouth shut! Don't be a fool who doesn't realize that mindless offerings to God are evil. Is that to the point or what?
Now to not receive from God is evil.  To be a mindless offering is evil.  God has given us His spirit and we are to use it for our benefit.  He has also given us free will: and we are to willfully keep our minds from wandering [waundering] to the point of self-destruction.
Now how do we do this?  How do we obey this Scripture?  Only Through prayer and discipline.  If concentrating becomes difficult for us, we must make more of an effort to focus.  If we're reading and find that we're not focusing and receiving: Stop—go back and read it again.  If we miss spaces in conversations, apologize and ask the person to repeat themselves.  By the end of the Sunday message, we know whether our minds have wandered and we missed what was said; so, buy the tape.  Take a quiet moment and listen to it; and if we miss parts of that, rewind it play it back.  Sometimes when I have a lot on my mind, I'll have to reverse a segment of a video 2 or three times.  I simply refuse to let Satan steal anything from me that I'm going to benefit from.  The Bible says: "resist the devil and he will flee from you." [James 4:7]
The Devil will give up, if he sees that we won't: give in. But only for a season; he's tenacious so we must always be on guard.  In addition, when we have numerous tasks to complete, prioritize them.  This enables us to focus on what's most important.  Then, instead of having our minds aimlessly buzzing around on numerous tasks, we can then concentrate on one to completion.  Of course it always helps to eat and rest properly.
The next condition I want to address is the wondering mind.  To wonder is to be filled with puzzlement and doubt.  When one has a wondering mind they're never really sure about anything—unstable.  Anyone who has a wondering mind, can't pray properly, can't get answers to their prayers because they have too much doubt in their minds—their hearts Let's review the familiar passage in
James 1:5-8
5 If any of you lack wisdom, let him ask of God, that giveth to all men liberally, and upbraideth not; and it shall be given him.
6 But let him ask in faith, nothing wavering. For he that wavereth is like a wave of the sea driven with the wind and tossed.
7 For let not that man think that he shall receive any thing of the Lord.
8 A double minded man is unstable in all his ways.
We can't approach God wondering if He's going to answer our prayers.  We are to approach him in faith, knowing that He's going to answer them.
Christians, who are walking in the Spirit of Christ, should never wonder, but walk victoriously.  Remember what Jesus said in Mark 11:24: "Therefore I say unto you, What things soever ye desire, when ye pray, believe that ye receive them, and ye shall have them."
Now with a promise like that from our Lord and Saviour, Jesus, whose spirit we're to walk in, how can we allow Satan to give us a wandering [waundering]—wondering, mind?  We must replace our doubtful thoughts with positive thoughts.  Instead of asking: I wonder if God's going to answer my prayer?  We should be declaring: I know God is going to answer my prayer, and when He answers it, and how He answers it, is up to Him.  Period!
Looking at one more condition, next we're going to look at: the confused mind.  Now the wondering mind and the confused mind are first cousins.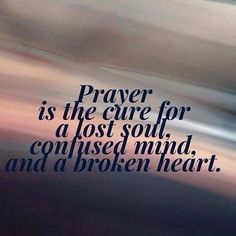 They are very closely related.  James 1:5-8 covers both conditions.  When we have a mind full of doubt—a wondering mind, we are confused about everything.  From what we believe to what we're going to wear.  We want to live single, but we want to be married.  We want to be saved, but we want to live like the world.  We want to be secure, but the fact is we're very insecure.  Do we see a pattern here?  It's a double mind.  A wondering—confused mind is in a word: a mess.  Unstable in all it does.
Now in the case of the confused mind, here is where Satan can really strut his stuff.  If you'll remember back to my last article, I mentioned that one of the functions of the mind is to reason.  Now what does it mean to reason?  It is the ability to think, form judgments, and draw
conclusions.  This is a power that God gave man when he created him.  Remember in Genesis 1:26 God said
"Let us make man in our image, after our likeness:" God gave man the ability to think and reason, and create like Him, but on a much more limited basis.  But remember along came Satan, who twisted God's words and confused
man's reasoning.
Now the scriptures tell us that Jesus is the same yesterday, today, and forever. [Heb 13:8] But also, we must always remember that Satan is the same yesterday, today, and from now on, until his time is up.  And he's using the same schemes today that he used, yesterday.  He is still interfering with man's reasoning today, leaving many Christians with confused minds.  Now let's examine how this works.
Reasoning is when a person tries to figure out the how and why behind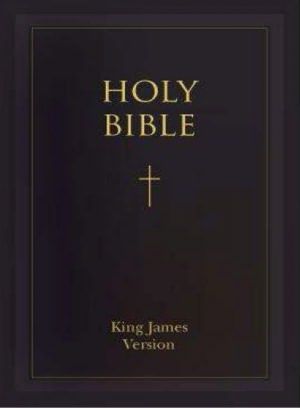 something like: an issue, event, or a situation, trying to figure out all of the intricate parts of it.  If it is logical and makes sense, we accept it.  If it doesn't, we reject it. But reasoning must be grounded in the right spirit.
Satan often steals the will of God from a Christian, because of reasoning.  We can literally reason ourselves right out of the will of God.  God may speak something to our spirits, but if it doesn't make sense to us, we'll reject it.  What God leads us to do does not always make logical sense to our minds.  While our spirits may affirm it, our minds will reject it.
For example: God's Word in James 1:2 reads:"My brethren, count it all joy when ye fall into divers temptations." [or various trails]  Now to our reasoning mind, this makes absolutely no sense what so ever.  How can anybody possibly have joy when going through a trial? A trial involves some form of adversity; some form of resistance.  There's no such thing as a happy trial; or a joyous trial; and in our natural reasoning, a trial is something to be avoided at all cost.
But in the mind of God, a trial is a good thing.  It proves us, and tests us, and He knows that when we come through the trial, that we are tried and true unto Him.  So we must turn our reasoning—our minds—our spirits over to God's spirit who knows the mind of God.  So for the Christian to encounter adversity, is to undergo a trial in which his or her faith is proved either true or false before God, the highest judge. Since many positive things come about through such trials, Christians are urged in this scripture, to rejoice at their occurrence.  It's the complete opposite of our natural reasoning.  Another more literal example is what it says in Luke 4:1 which is: "And Jesus being full of the Holy Ghost returned from Jordan, and was led by the Spirit into the wilderness."  Now in Matthew 4:1 it says: "Then was Jesus led up of the Spirit into the wilderness to be [tempted of the devil]."  Now natural reasoning may wonder: Why would God lead Jesus to the devil?  It just doesn't make sense to natural reasoning, and when we try to apply natural reasoning to spiritual things, it leads to confusion.
The same goes with tithing.  Natural reasoning cannot comprehend the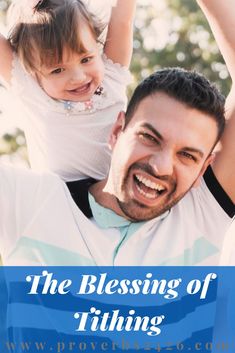 principles of tithing.  It can never understand that a blessed 90%
is far better than an unblessed 100%.  Natural reasoning will never comprehend the three T's of Christianity: trials, tribulations, and tithes.  Now this is Satan's game!
That's why if you look at the ways of the world, and the ways of God with the teachings of Christ, they are the complete opposite of one another.
It's Satan's objective to keep our reasoning in the natural, instead of the spiritual.  Remember what Satan said to Eve: ""Did God really say, 'You must not eat from any tree in the garden'?"[Gen 3:1 NIV]  He interfered with her reasoning; turned it away from God—the spiritual, and switched it to the natural.  Now she had already received the instructions from God, and accepted them in the spirit.  But after listening to Satan, she switched to the natural.  The scriptures read: "And when the woman saw that the tree was good for food, and that it was pleasant to the eyes, and a tree to be desired to make one wise, she took of the fruit thereof, and did eat, and gave also unto her husband with her; and he did eat. [Genesis 3:6]
Once she switched to the natural reasoning, she saw all of the natural
benefits and totally forgot about the spiritual—what God said.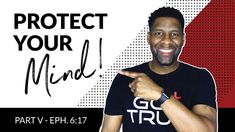 This is why one of the worst things we can ever do, is have a conversation with Satan.  Once we open up a dialog with him, it gives him the opportunity to step in with his reasoning, unleashing havoc and confusion in our minds.  However, the best thing we can ever do, is give him the hand (to stop), and keep on walking in Christ's spirit.  We must recognize him for what he is a deceiver and a liar.
Now again, reasoning is a natural God given ability.  But Satan comes along with temptation.  Now I'm going to cover temptation later on in this series.  But temptation is when we are enticed to take our God given abilities beyond God's boundaries.  And this is what Satan does with our reasoning.  This is a very serious component regarding the battle in the mind.  This is a very serious aspect of Spiritual Warfare.  So we need to look at some solutions, which of course are in the scriptures.  Let's first look go back to 1 Corinthians 2:14
14 But the natural man receiveth not the things of the Spirit of God: for they are foolishness unto him: neither can he know them, because they are spiritually discerned.  [separated]
You see, the natural man cannot receive from God's spirit.  The Scripture says that the natural man is spiritually separated.  Why? Because he's stuck in his own reasoning, therefore the things of the spirit are simply foolishness, as far as he's concerned.  So he remains stuck in his own, limited wisdom.  That's why when addressing the ungodly, the bible says in Romans 1:22 "professing themselves to be wise, they became fools." They are fools because they are stuck in the world's wisdom which is nothing in comparison to the wisdom of God.  The bible confirms this by saying: "because the foolishness of God is wiser than men; and the weakness of God is stronger than men." [1 Cor 1:25, cf. vss. 18-27]  So the natural man simply cannot receive any wisdom from God.
Now this is no accident:  Let's look at this in 2 Corinthians 4:4
4 In whom the god of this world hath blinded the minds of them which believe not, lest the light of the glorious gospel of Christ, who is the image of God, should shine unto them.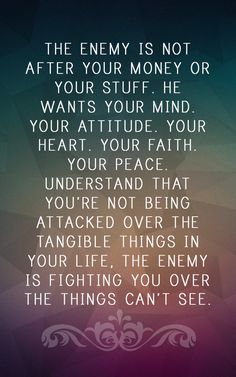 The god of the world is Satan.  Satan is blinding the mind of man today by causing confusion, just as he did in the Garden of Eden.
So this goes back to what I've been addressing all along.  Walk in the spirit of God and Christ, and that will help us to understand God's will for us.  This is what renewing our minds is about, which was addressed in my article. It's about hooking up—with the spirit of God.  That's why God said in His word:  "be still and know that I am God. [Ps. 46:10]  So we must learn to not always reason in our minds, but just obey the spirit.  Let's now go back to James 1:22
22 But be ye doers of the word, and not hearers only, deceiving your own selves.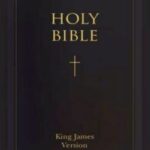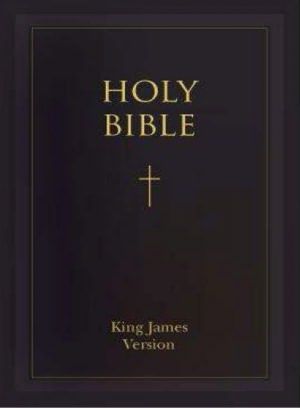 We simply must obey God's Word.  Not just listen to it, but do what it says.  If we listen to the Word, but don't obey it: we're only deceiving ourselves.  This goes back to what I said earlier about sitting in church, and not receiving.  We may look like we're listening and receiving, fooling others, but in essence, we're only fooling ourselves.  It's like cheating on a test: in the long run we've only cheated ourselves.  We must not only listen and study the word, but we must also receive it, and apply it to our lives.  We can't always reason and rationalize everything God's says to us.  We are to just obey.  How many times have we heard bosses say: just
do it! And what happens?  We do it!
You see, a leader—a boss, sees things from a different perspective, a bigger picture, and has to answer to somebody higher than he is.  So we may not understand why they ask us to do, or not to do certain things. But nevertheless, we must do what they tell us: and it's biblical. [Eph 6:5-7]
In addition, we must always remember what applies in the natural, applies in the spiritual.  God also see the bigger picture—a much bigger picture.  So we must just do what the spirit of God leads us to do.  Now we're going to look at another scripture that deals with trusting God.  Proverbs 3:5
5 Trust in the LORD with all thine heart; and lean not unto thine own understanding.
Again, trust God and not human reasoning.  Reasoning opens the door for deception and brings much confusion, leading to a confused mind.  So Girding up the loins of our minds and trusting God, is the only way to win—The Battle of the Mind.
Please feel free to leave any question, comment, or concern regarding Spiritual Warfare below.
Blessings!
Please follow and like us: