Did you ever think that you would witness what is going on in Ukraine? Did you ever think that a leader in the twenty-first century would unleash such death and destruction as Putin has? Those who pay attention to the Scriptures probably aren't surprised at all, as these actions are contained in Biblical prophecy. Putin himself is in prophecy. This article will shine the light on Putin in Biblical prophecy.
Who is Putin?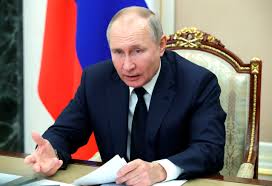 His full name is Vladimir Vladimirovich Putin. He is a former intelligence officer (KGB) and Russian politician who is the current president of Russia, a position he has held since 2012 and from 2000 until 2008. From 1999 to 2000, he was also the prime minister from 2008 to 2012.
This brief description describes modern-day Putin.
Putin in Biblical Prophecy
Russia is the most aggressive and dangerous nuclear superpower in the world today. Therefore, you can be sure that Russia is contained in Bible prophecy. However, to find it, you must know its ancient biblical name. Then, prophecies about this nation can be located in the Old and New Testaments.
In the book ofEzekiel, chapters 38 & 39 contain the final battle against Israel. Verse 8 mentions the "latter days," which is the time we are currently living in. This chapter includes some world-confounding news concerning the mighty Russian empire and its "prince." This prince is looked upon with much trepidation.  Let's look at Ezek 38:1-3
1 Now the word of the Lord came to me, saying,
2 "Son of man, set your face against Gog, of the land of Magog, the prince of Rosh, Meshech, and Tubal, and prophesy against him,
3 and say, 'Thus says the Lord God: "Behold, I am against you, O Gog, the prince of Rosh, Meshech, and Tubal. NKJV
It is important to note that the fulfillment of verses 2-3 initiates prior to the Great Tribulation, the Day of the Lord, and Jesus Christ's Second Coming (the latter days).
The Son of man is Ezekiel, God's messenger identifying the prince. There are two (2) explicit individuals in this passage. God gives the title of the prince, making it effortless to recognize him. Nevertheless, God still has to reveal who he is in the latter days.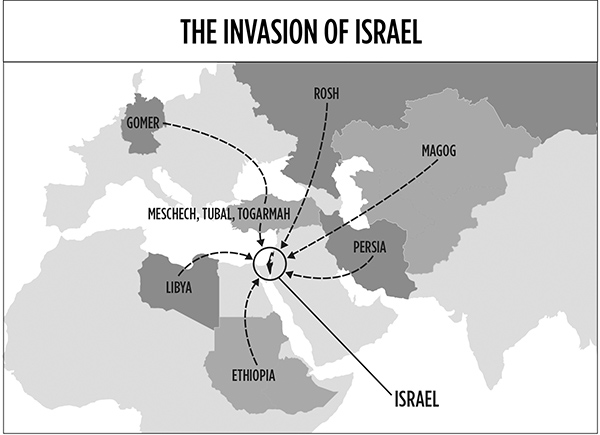 God's messenger warned the nations of Israel in particular about the danger of Russia and China and how events in these nations are all going to end. God explicitly warns three nations of Israel—America, the British peoples, and the Middle East's Jewish state—Israel. For more information on The United States and Britain in Prophecy in more detail from the Bible and history, please read the article The Rise and Fall of America on this website.
Scholars agree overall that "Gog" is Russia and that "the land of Magog" includes China. The offspring of Meshech and Tubal have been found together throughout history. In Assyrian and Greek records, Meshech appears as Musku, Muski, or Mushki—all names related to the Russian spelling of Moscow, as stated in the International Standard Bible Encyclopedia and Fausset's Bible Dictionary.
Magog was Gog's original kingdom; he additionally acquired Mesech and Tubal, becoming their "chief prince" (rest; the Scythian Tauri and the Araxes were called Rhos, from whence Russia). Mesech was once one of the most powerful nations in western Asia.
Concerning Tubal? On the eastern side of the Ural Mountains lies the city of Tobolsk, named after the Tobol River, a name derived from Tubal. Tobolsk was once the center of the Russian government over Siberia and was considered Russia's Asian capital.
There is also a name for all Russian people in verse 2. There has been some controversy about how the Hebrew word Rosh (Roshe) should be translated in this verse. The King James Version translates it as an adjective as "chief." However, the correct rendering (used by the Moffatt, NIV, New King James, and other modern translations) uses the word not as an adjective but as a proper noun: Rosh. Thus, the updated verse reads, "the prince of Rosh, Meshech, and Tubal."
Rosh was the ancient name of Russia, initially called Rus. Several encyclopedias and commentaries (i.e., the Jamieson, Fausset, and Brown Commentary) recognize this. So who exactly is this "prince" of Russia, Moscow, and Tobolsk? The use of these three names indicates that this is a particular ruler of all the populaces of Russia, from the east to the west. The mention of Moscow and Tobolsk aids us in seeing how vast Russian territory is in these latter days and indicates that the prince is likely to conquer more nations of the former Soviet Union.
Studying these scriptures in conjunction with current events illuminating modern-day Moscow's imperialist direction indicates that Russian President Vladimir Putin could well be the prince of Rosh.
John records an astounding prophecy around A.D. 90 in Rev 9:16
16 And the number of the army of the horsemen were two hundred thousand thousand: and I heard the number of them.
Verses 13-21 of this chapter describe the sounding of the sixth trumpet. The sounding of this trumpet released a force to kill a third of mankind or humanity. Verse 16 states the army's size as a massive Two Hundred Million!
Verse 14 Indicates that the four angels who loosed the army were on "the great river Euphrates" which is on the eastern border of the Holy Land. This location is further confirmed in Rev 16:12, which mentions that the Euphrates River was dried up so that the "kings of the east"
could cross it for the battle.
Additionally, it is interesting to note that Russia has built a series of dams along the Euphrates, making it possible to dry up the river. Also interesting, Iraq's water ministry has reported that the Euphrates and the Tigris, Iraq's two main rivers, will run completely dry within two decades unless action is taken.
Ezekiel 38:2 and other Scriptures mentioned indicate that the prince of Russia will lead the 200 million-man army, which will include China and other nations. However, the two key nations are Russia and China from the east.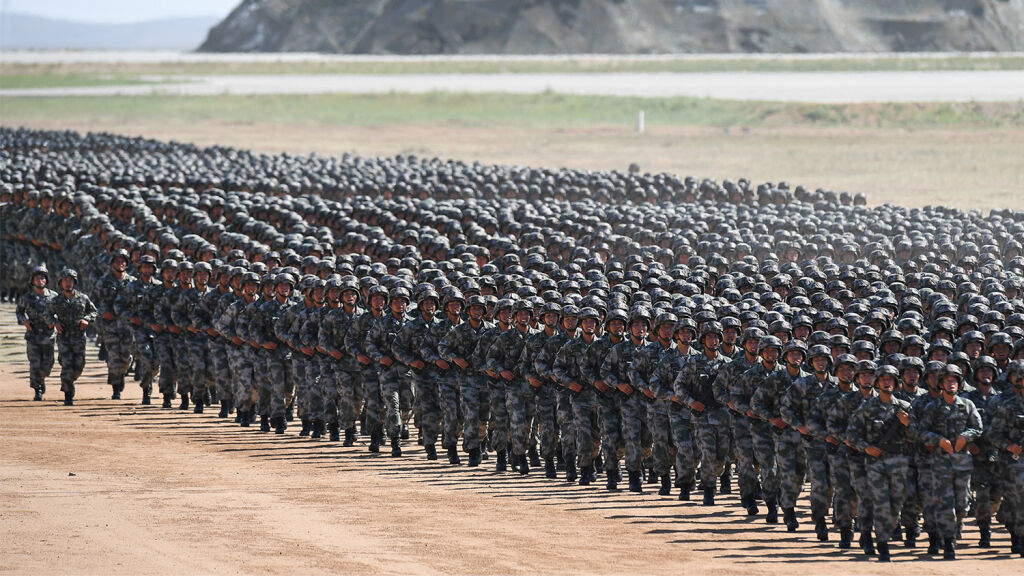 Further, only Russia alone has the oil to sustain such a colossal army. Details about this army are revealed in passages, for example, Revelation 9:13-21 (mentioned earlier), Revelation 16, Daniel 11, Jeremiah 50, and Joel 2. In Joel 2:11, this 200 million-man Asian force is actually called God's army. This designation indicates that God is coordinating His plan at the center of all this warfare.
God is the Lord of Hosts, in charge of all armies, and He will utilize this colossal Asian force to meet head-on with the military of a united German-led Europe (to be covered in a future article) will also be on the scene at this time. It will annihilate Europe, but not the main European armies. These two armies will meet to fight at Armageddon (Rev. 16:16). They will be defeated when they battle against Jesus Christ. This annihilation will be God's punishment on the Europeans for their sins—especially for their brutal treatment of His people Israel (e.g., Revelation 18:5-6; Jeremiah 50:29-31).
Current events demonstrate that this Asian army is already taking shape. It is displayed in Putin's growing totalitarianism and outreach to other Asian powers. Russia has supplied China with numerous military safeguards over the last decade. It has additionally helped the Chinese to go nuclear. For decades, the Russians have been linked with China, to some extent.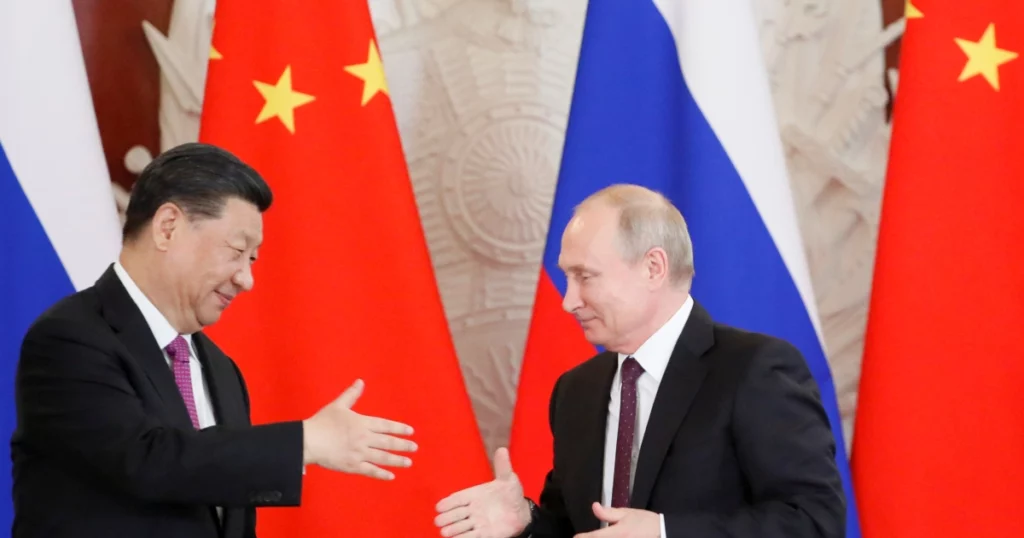 From current events, we can further observe that China has not condemned Russia for its invasion of Ukraine, and Russia has even asked China for assistance with the war.
In addition, on April 7th, 2022, the United Nations voted to suspend Russia from the Human Rights Council in a critical and historic move because of the atrocities committed in Ukraine. However, China voted against it.
Additionally, 58 countries abstained, including India, Brazil, and other oil-rich Arab states, exposing competing world orders and energy priorities.
Please take note of what it says in Ezek 38:5-6
5 Persia, Cush and Put will be with them, all with shields and helmets,
6 also Gomer with all its troops, and Beth Togarmah from the far north with all its troops — the many nations with you. NIV
However, there will also be other additional powers involved. Ezekiel's prophecy pronounces the Russian-led army will include "Persia, Ethiopia, and Libya … Gomer, and all his bands; the house of Togarmah of the north quarters, and all his bands: and many people …" (Ezekiel 38:5-6 KJV).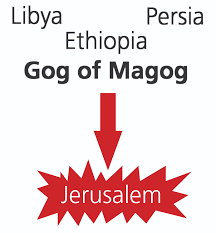 Gomer is believed to refer to Japan, which brandishes some of the world's most sophisticated weaponry and technology. Ethiopia and Libya should be interpreted as "Cush" and "Phut," as shown in the NIV translation. Some Cush and Phut inhabitants journeyed to African nations, and the rest traveled to parts of India. The context of this passage shows that it refers to modern-day Indians (and perhaps Pakistanis) rather than Africans.
These observations are noteworthy since India has approximately 1.2 billion people—and an advanced nuclear arsenal! When India and Japan are placed together with Russia and China, it is not hard to observe how an arsenal of 200 million soldiers could be fashioned. With possibly other Asian nations joining, combined populations of 3.5 to 4 billion people can quickly be reached. Under intense situations like the ones described in these end-time prophecies, it is not difficult to imagine 1 in 10 or 20 individuals going to war.
Putin may have a boyish innocent look about him, but the Bible prophesies that he will perhaps be accountable for more death and destruction than any leader in the history of man.
In 2005, Putin called the fall of the Soviet empire "the greatest geopolitical catastrophe of the century." Not only does he mourn the USSR's collapse—he is resolute in rebuilding it and restoring the glory of imperial Russia. Putin made these goals evident in August 2008 when Russia used military force to invade the former Soviet nation of Georgia. One publication wrote the following: "Russia's attack on Georgia in August marks the beginning of a dangerous new era in history."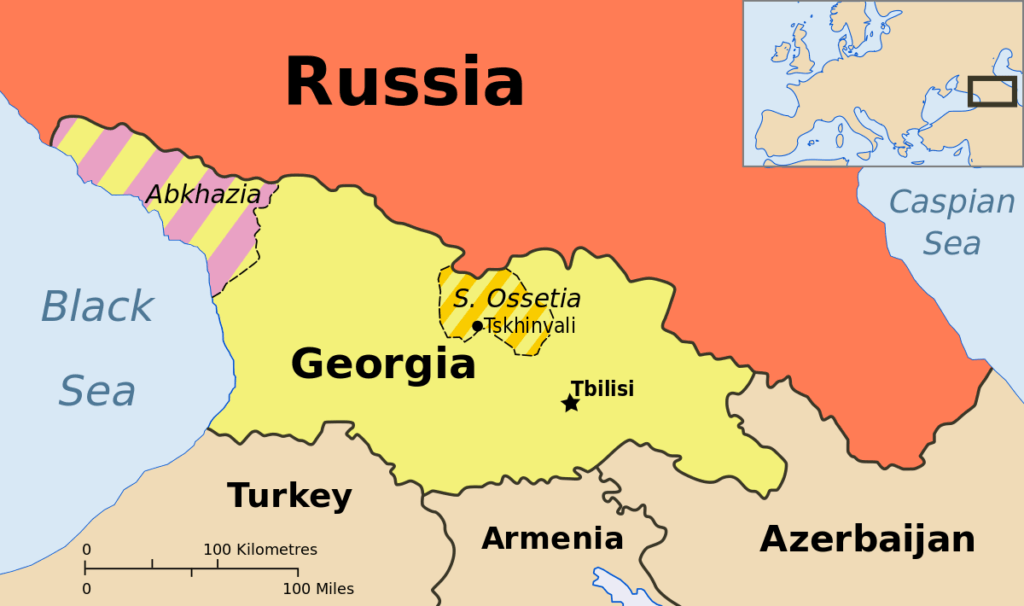 This action was the first military strike of a rising Asian superpower. The thinking and questions that arose at that time were: will the Georgia strike ignite European unification? Will a crisis arise regarding Ukraine? Since that area is the breadbasket of Russia, most likely, it is willing to wage war over that as well.
These questions have obviously been answered.
It is essential to observe Vladimir Putin closely because it appears that he is almost sure to be the "prince of Rosh" that God stirred Ezekiel to write about 2,500 years ago! We need to observe what is going on in Russia and how Europe responds. Daniel mentions "tidings out of the east" troubling Europe (11:44). Putin's campaigns in the Middle East, Georgia, Ukraine, and elsewhere are already deeply troubling Europe and the rest of the world.
On April 5th, 2022, General Mark A. Milley, Chairman of the Joint Chiefs of Staff, issued this warning: "the Russian invasion of Ukraine is threatening to undermine not only European peace and stability but global peace and stability that my parents and a generation of Americans fought so hard to defend."
Russia's resurgence—, which we see reported in headlines often—shows that end-time Bible prophecies are rapidly being fulfilled!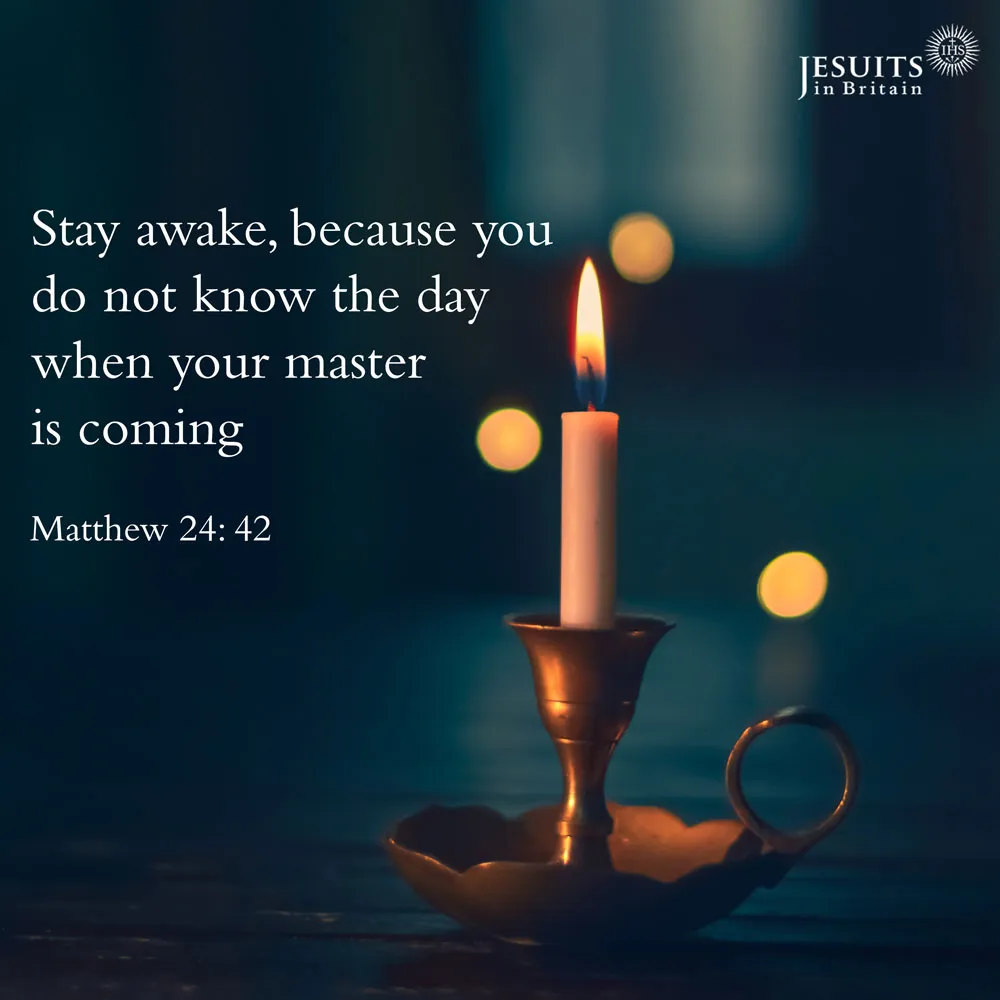 Mr. Putin's warfare will lead directly into the Second Coming of Christ. Jesus Christ knows how to deal precisely with all leaders like the prophesied prince of Russia and that's the good news!
In the meantime, remember what Jesus said in Matt 24:42, "Therefore keep watch, because you do not know on what day your Lord will come." NIV We must always be prepared for the "Day of the Lord." [2 Pet. 3:10]
Amen.
Questions, comments, and concerns may be left below.
Blessings!
Please follow and like us: