How many of us are genuinely contented? For many, contentment is elusive at best. No matter how much they have, they aren't content. Is this wrong? What does the Bible say about contentment? This article explores contentment and the Bible.
What is Contentment?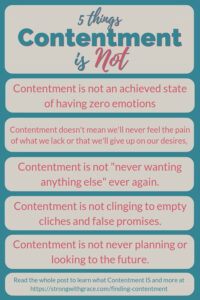 According to the Merriam-Webster dictionary, contentment is the quality or state of being contented. To be contented is to feel or show satisfaction with your possessions, status, situation, or life in general. To be content isn't a bad thing!
What does the Bible say about Contentment?
There are some twenty-five verses in the Scriptures regarding contentment. We'll look at a few of them.
1 Tim 6:6
6 But godliness with contentment is great gain.
This Scripture is in the context of false teachers who were motivated by money, and their ultimate goal was to enrich themselves, and operated under the misconception that godliness was a means to financial gain. But Paul countered that "godliness" combined with "contentment" was the means to gain. But not just gain, but "GREAT gain." Godliness is great gain by itself when accompanied by contentment. Godliness does not come and go with the qualms of material wealth. Godliness, with contentment, is wealth unrelated to one's bank account and assets. The false teachers had it in reverse.
In order to have contentment in Christ, there are four aspects concerning the possessions of our life:
(1) We must be grateful for what God has already allowed us to have.
(2) We must overlook what we do not have.
(3) We must refuse to covet what others may have.
(4) We must be thankful to God for all his gifts (4:3-4). Thanksgiving is the result of contentment.
If we fail to make these aspects a part of our psyche, our contentment will diminish.
As for gain, the benefits or profit that inspired the false teachers were neither lasting nor could result in contentment. Their earthly profits would be left behind, as verse 7 reads, "For we brought nothing into this world, and it is certain we can carry nothing out." What brings great gain are eternal values. We quit contributing to our eternal accounts when material treasures become our focus. Whatever gains we may experience in this life mean nothing if they cause us eternal bankruptcy (see Matt 6:19-24). As Jesus said in Mark 8:36, "For what shall it profit a man, if he shall gain the whole world, and lose his own soul?"
The bottom line is we should place our focus on God and center our desires on him ("godliness," Matt 6:33), and we should be content with what God is doing in our lives (Phil 4:11-13).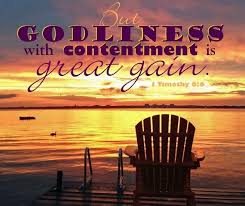 Another prominent Scripture regarding contentment is Hebrews 13:5-6 which reads:
5. Let your conversation be without covetousness; and be content with such things as ye have: for he hath said, I will never leave thee, nor forsake thee.
6. So that we may boldly say, The Lord is my helper, and I will not fear what man shall do unto me.
The Greek word translated as conversation means lifestyle. Christians should live a lifestyle that doesn't exercise covetousness—that does not covet. But they should live a lifestyle that is content with what they have. Having a passion for worldly materialistic things and greed is a great evil because they show dependence on money rather than on God. The remedy for greed is contentment.
Covetousness additionally demonstrates that an individual cares more about items they can see than spiritual assurances they cannot see in the present.
Our contentment should be in what God provides, not in what we can achieve ourselves. Money cannot save us from the punishment of God. Money itself cannot even yield contentment. Most individuals often discover that money, rather than deliver contentment, fails to live up to their expectations. This disappointment explains why there are so many miserable wealthy individuals. However, where money disappoints, God does not. For God has said, "I will never fail you. I will never forsake you." Faith in this promise of God keeps us in check and reminds us that God has given us all we need (Phil. 4:19).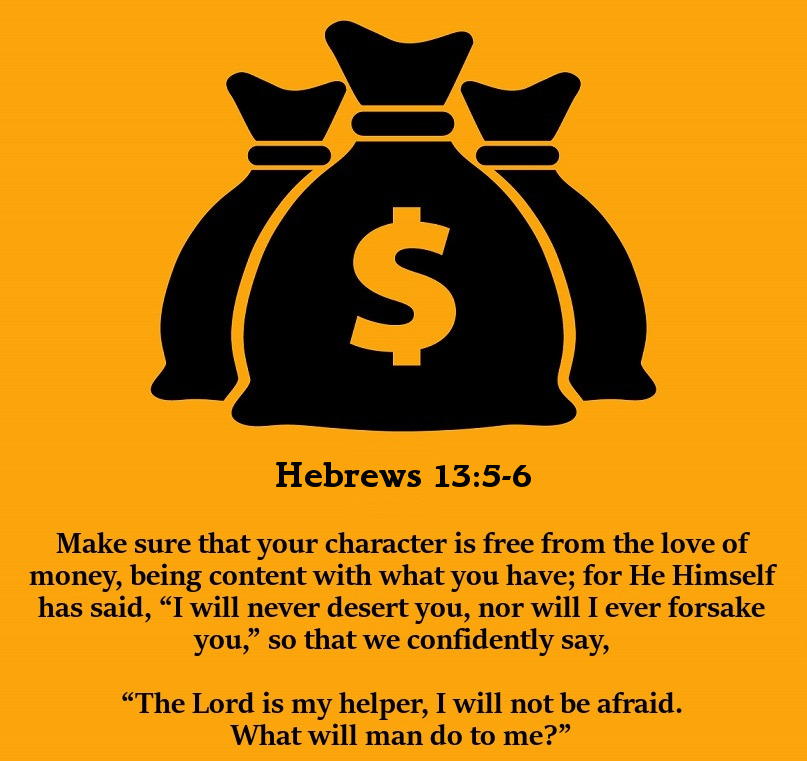 The bottom line is that money cannot guarantee security; only God can truly help us. While we are not guaranteed earthly possessions, we are assured that God is our helper. He looks after His people and gives them what they need. Every Christian can say with conviction that the Lord is my helper (Ps 118:7).
The Apostle Paul knew this better than anybody. For he wrote in his letter to the Phillippians
In Philp. 4:11-12
11. I am not saying this because I am in need, for I have learned to be content whatever the circumstances.
12. I know what it is to be in need, and I know what it is to have plenty. I have learned the secret of being content in any and every situation, whether well fed or hungry, whether living in plenty or in want.
Paul acknowledges in this passage that he had learned an essential secret to the Christian life: that he could be content with whatever he had despite his external circumstances. Paul had to learn this, as do we because contentment is not a natural human response. The Greek word translated content means "self-sufficient" and independent of others. Paul used this term to indicate his independence from everything but Christ since Christ was the sole source of Paul's life, as he stated in verse 13, "I can do all things through Christ which strengtheneth me.
Paul affirmed that his capability was in Christ alone, who provided him with the strength to cope with all circumstances.
The last Scripture to look at regarding contentment is found in Matt 6:33, which reads:
33. But seek ye first the kingdom of God, and his righteousness; and all these things shall be added unto you.
We, as Christians, must resolve the issue of priorities. We must be different from unbelievers whose primary concerns are comfort, security, money, fashion, etc. Followers of Christ seek first the kingdom of God and His righteousness. The word "seek" is a present imperative. It is
a command to accomplish a perpetual obligation. To "seek the kingdom" means to submit to God's sovereignty here and now and to work for the future arrival of His kingdom.
To "seek His righteousness" means to work at living as God requires, to indeed seek these "first" calls for total loyalty and commitment. It means to turn to God first for help, to fill our thoughts with his desires, to take his character for our pattern, and to serve and obey him in everything.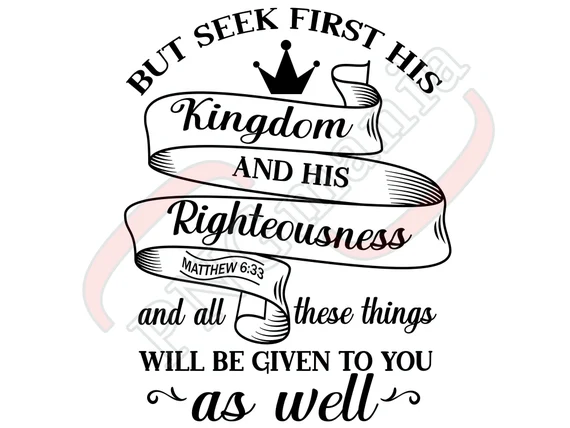 The question to ask is, what is most important to us; what do we"seek first"? Is it people, objects, goals, money, pleasure? These and additional desires all compete for precedence. Any of these can quickly bump God out of first place if we don't actively choose to give him first place in every area of our lives. Once we get our priorities right, Jesus promised to add all "these things" to us. When we seek his kingdom first, God takes care of our needs.
Conclusion
How can we learn to be content? We must make every effort to live with less rather than desiring more, give away from our excess rather than hoarding more, and appreciate what we have rather than resent what we're missing. We must see God's love expressed in what he has provided and remember that money and possessions will all pass away (Mark 13:31).
We become content when we realize God's adequacy for our needs. Christians who become materialistic by their actions are saying that God isn't taking care of them the way they want. This insecurity can lead to the love of money, whether we are rich or poor. The only remedy is to trust God to meet all of our needs.
Godliness with contentment is great gain!
Amen
Questions, comments, and concerns may be left below.
Blessings!
Please follow and like us: