Obedience to God is the most important way for us to go through our lives. But, why? For starters, it is our way of showing our love to God and maintaining a relationship with Him. Additionally, there are benefits when we are obedient to God because He blesses us. So what are the benefits of obedience to God? What happens if we are not? The purpose of this article is to respond to these questions.
What is Obedience to God?
First, obedience is carrying out the word and will of another person. Since we are addressing obedience to God, this definition applies specifically to the will of God. Equally in the Old and New Testaments, the word obey is related to the idea of hearing. Obedience is a certain, active response to what an individual hears. God directs individuals to active obedience to His representation.
Nevertheless, as much as God desires man's obedience, He does not force obedience but has always given mankind a choice since he created him. Let's look at the choice God gave to Adam. Gen 2:16-17
16 And the Lord God commanded the man, saying, Of every tree of the garden thou mayest freely eat:
17 But of the tree of the knowledge of good and evil, thou shalt not eat of it: for in the day that thou eatest thereof thou shalt surely die. KJV
God clearly gave Adam a choice; obey and live or disobey and die. Adam was God's crowning creation. God created him in His own image (Gen 1:17), provided the best for him, and made a conditional covenant with him.
We all know the choice Adam made and he, as well as all of those that followed, has paid the price for that choice as we live in a post-Eden world.
Let's fast forward some 2500 years when God delivered the Israelites from Egypt and led them into the wilderness of Sinai. There thru His servant Moses, He delivered His law and made a covenant with them. Ex 19:5-6
5 Now therefore, if ye will obey my voice indeed, and keep my covenant, then ye shall be a peculiar treasure unto me above all people: for all the earth is mine:
6 And ye shall be unto me a kingdom of priests, and an holy nation. These are the words which thou shalt speak unto the children of Israel.
The Israelites were God's chosen nation and if they kept His covenant, they would be above all the other nations on the earth.
Ex 23:22-25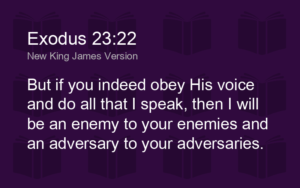 22 But if thou shalt indeed obey his voice, and do all that I speak; then I will be an enemy unto thine enemies, and an adversary unto thine adversaries.
23 For mine Angel shall go before thee, and bring thee in unto the Amorites, and the Hittites, and the Perizzites, and the Canaanites, and the Hivites, and the Jebusites: and I will cut them off.
24 Thou shalt not bow down to their gods, nor serve them, nor do after their works: but thou shalt utterly overthrow them, and quite break down their images.
25 And ye shall serve the Lord your God, and he shall bless thy bread, and thy water; and I will take sickness away from the midst of thee.
God through His conditional covenant promised to bless the Israelites mightly if they obeyed Him. The Israelites accepted this covenant (Exodus 19:7-8).
God promised to provide, protect, and usher them into the Promised Land (Exod. 3:8).
The Consequences of Disobedience to God
When the Israelites were on the verge of entering the Promised Land, the Lord through Moses requested men, leaders from each of the 12 tribes to go out and survey the Land and surmise how to approach it (Num. 13). However, 10 of the spies returned with a negative report and only two (Caleb and Joshua) yielded a positive one.
As a result, the Israelites rebelled to the point that they wanted to stone Moses, Aaron, Joshua, and Caleb (Num. 14). God appeared to Moses and threatened to wipe out the nation entirely but Moses interceded..again and God recanted. This wasn't the first time Moses interceded on behalf of the Israelites (Num. 14:22). They were pretty rebellious.
Nevertheless, never the less, God still handed down a judgment against the people (Num. 14:23-38). All of the adults that had murmured, complained, and rebelled against God and refused to go into the Promised Land would wander in the wilderness for forty years and subsequently die in the wilderness without entering the Promised Land. Only their children would be allowed to enter the Promised Land.
After the forty years had passed, the new generation was about to enter the Promised Land. Moses had a meeting with the congregation and repeated the Laws of the covenant, and encouraged them to obey the Lord. He put before them the blessings of obedience and the curses of disobedience; life and death and encouraged them to choose life.
Deut 30:15-19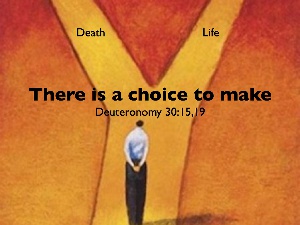 15 See, I have set before thee this day life and good, and death and evil;
16 In that I command thee this day to love the Lord thy God, to walk in his ways, and to keep his commandments and his statutes and his judgments, that thou mayest live and multiply: and the Lord thy God shall bless thee in the land whither thou goest to possess it.
17 But if thine heart turn away, so that thou wilt not hear, but shalt be drawn away, and worship other gods, and serve them;
18 I denounce unto you this day, that ye shall surely perish, and that ye shall not prolong your days upon the land, whither thou passest over Jordan to go to possess it.
19 I call heaven and earth to record this day against you, that I have set before you life and death, blessing and cursing: therefore choose life, that both thou and thy seed may live:
Fast-forward 830 years only to discover that Israel did not choose life and remain faithful to God. Instead, they engaged in idolatry and raised God's anger.
In the book of Ezekiel, the announcement of judgment is found in chapters 5 & 6.
Ezek 6:11-14
11 Thus saith the Lord God; Smite with thine hand, and stamp with thy foot, and say, Alas for all the evil abominations of the house of Israel! for they shall fall by the sword, by the famine, and by the pestilence.
12 He that is far off shall die of the pestilence; and he that is near shall fall by the sword; and he that remaineth and is besieged shall die by the famine: thus will I accomplish my fury upon them.
13 Then shall ye know that I am the Lord, when their slain men shall be among their idols round about their altars, upon every high hill, in all the tops of the mountains, and under every green tree, and under every thick oak, the place where they did offer sweet savour to all their idols.
14 So will I stretch out my hand upon them, and make the land desolate, yea, more desolate than the wilderness toward Diblath, in all their habitations: and they shall know that I am the Lord.
Man's failure to obey God results in judgment. In the Old Testament covenant between God and man, obedience was the basis for knowing God's blessing and favor (Ex 24:1-8). Samuel highlighted that God's pleasure was not in sacrifice but obedience
(1 Sam 15:22). Even the promise of a new covenant emphasized obedience as God's gift (Jer. 31:33).
However, throughout the Old Testament, man has chosen to disobey God and has paid the consequences of that disobedience.
God blesses obedience but judges disobedience.
A New Covenant
Because the old covenant (The Old Testament) was not adhered to, God desired to establish a new covenant (The New Testament). Jer. 31:31-33:
31 Behold, the days come, saith the Lord, that I will make a new covenant with the house of Israel, and with the house of Judah:
32 Not according to the covenant that I made with their fathers in the day that I took them by the hand to bring them out of the land of Egypt; which my covenant they brake, although I was an husband unto them, saith the Lord:
33 But this shall be the covenant that I will make with the house of Israel; After those days, saith the Lord, I will put my law in their inward parts, and write it in their hearts; and will be their God, and they shall be my people.
This new covenant arrived with the advent of Jesus Christ. Heb 9:11-15
11 But Christ came as High Priest
of the good things to come, with the greater and more perfect tabernacle not made with hands, that is, not of this creation. 12 Not with the blood of goats and calves, but with His own blood He entered the Most Holy Place once for all, having obtained eternal redemption. 13 For if the blood of bulls and goats and the ashes of a heifer, sprinkling the unclean, sanctifies for the purifying of the flesh, 14 how much more shall the blood of Christ, who through the eternal Spirit offered Himself without spot to God, cleanse your conscience from dead works to serve the living God? 15 And for this reason He is the Mediator of the new testament, by means of death, for the redemption of the transgressions under the first covenant, that those who are called may receive the promise of the eternal inheritance. NKJV
In the New Testament, the obedience of Christ stands in stark contrast to the disobedience of Adam. The disobedience of Adam brought death, but the perfect obedience of Christ brought grace, righteousness, and life (Rom 5:12-21).
Christ's sacrificial death did away with the old system of redemption through the blood sacrifice of animals, and His shed blood was the only sacrifice needed for the redemption of sins allowing entrance into eternal life (John 3:16).
This is the Gospel (good news) of Jesus Christ!
Today's Choice
The Promised Land for the Israelites was an earthly one. But today's Promised Land is a spiritual one—eternal life! Even so, obedience still yields blessings for us as we live our lives today. We can be blessed in many ways while on earth. These blessings are individual and too numerous to name.
With this good news, man (mankind) today has a choice.
Take note of Jesus' response when the rich young ruler asked Him what he must do to have eternal life. He said, "…if
you want to receive eternal life, keep the commandments." (Matt 19:17) TLC
Notice the word "if" which represents a condition. If we obey God, we will have eternal life. It also indicates that we can or cannot chose to obey.
Here is another one: John 14:23-24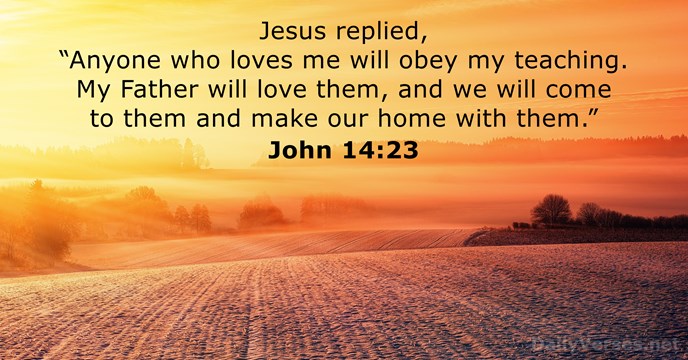 Jesus replied, "All who love me will do what I say. My Father will love them, and we will come and make our home with each of them. 24 Anyone who doesn't love me will not obey me…"
Many say that they love God and His Son but still disobey. If we really love Jesus, we must obey His Words. I cannot think of anybody else I would rather have in my home!
Making the Wrong choice
Until Jesus returns man (mankind) will always have a choice and if the choice is to follow Christ, let us hold on to the faith that we profess. The Scriptures offer encouragement with this.
Heb 10:19-23
19 Therefore, brethren, having boldness to enter the Holiest by the blood of Jesus, 20 by a new and living way which He consecrated for us, through the veil, that is, His flesh, 21 and having a High Priest over the house of God, 22 let us draw near with a true heart in full assurance of faith, having our hearts sprinkled from an evil conscience and our bodies washed with pure water. 23 Let us hold fast the confession of our hope without wavering, for He who promised is faithful. NKJV
The choice we make is not necessarily the final one. Free will allows us to change in either direction, to follow Jesus or not. However, we are warned against drawing back in the Scriptures.
Heb 10:26-31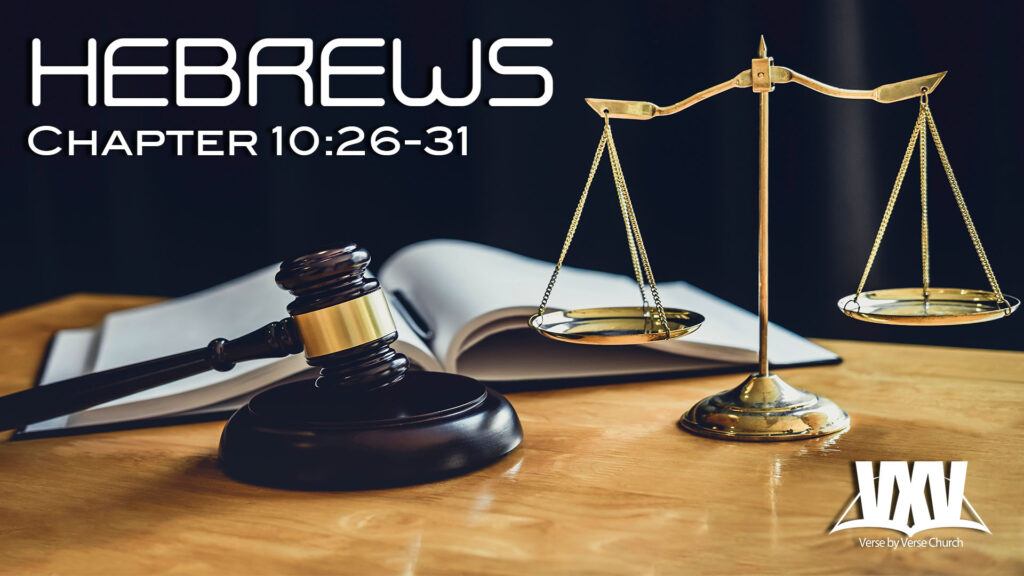 26 For if we sin willfully after we have received the knowledge of the truth, there no longer remains a sacrifice for sins, 27 but a certain fearful expectation of judgment, and fiery indignation which will devour the adversaries. 28 Anyone who has rejected Moses' law dies without mercy on the testimony of two or three witnesses. 29 Of how much worse punishment, do you suppose, will he be thought worthy who has trampled the Son of God underfoot, counted the blood of the covenant by which he was sanctified a common thing, and insulted the Spirit of grace? 30 For we know Him who said, "Vengeance is Mine, I will repay," says the Lord. And again, "The Lord will judge His people."  31 It is a fearful thing to fall into the hands of the living God.  NKJV
If we chose to reject Christ at any point, either before accepting Christ or afterward, there is no longer a conduit from our sins but a conduit for judgment. [Rev. 20:11-15]
If we just look around us, we can see the fruits of disobedience.
I pray that we all choose to experience the benefits of obedience to God.
Amen
Questions, comments, and concerns are welcomed below. You will receive a response.
Blessings!
Please follow and like us: