The lion in the Bible represents strength and power. How is this displayed in the Scriptures? This article expounds on the lion and the Bible.
The Lion and the Bible
We believe that the Scriptures are the Word of God, the inerrant, immutable, and infallible Word of God. On occasion, there is a Scripture that jumps off the page in a way that cannot be shaken.
One such Scripture that has jumped out lately is found in 1 Peter 5:8, which reads, "Be sober, be vigilant; because your adversary the devil, as a roaring lion, walketh about, seeking whom he may devour:" We don't have to look very far to see the application of this Scripture in force. However, far away, it is being enforced even more mightily that being in the Middle East. The devil is having a field day in the Middle East. Thousands have been killed and injured on both sides of the conflict; over two hundred Israelis have been taken as hostages, with it being unknown what their demises may be. Israelis have been raped, tortured, and burned alive, babies beheaded. Innocent citizens of Gaza are suffering from a lack of food, water, and medicine. All of this is at the hands of the terrorist group Hamas—an agent of Satan doing his bidding.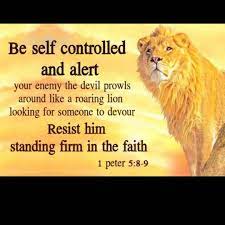 Israel is threatened on two fronts: Gaza and the northern border with Lebanon. Yes, the lion is walking and roaring in the Middle East, Israel in particular.
Israel suffered a surprise attack. With all of its sophisticated equipment and intelligence sources, they were attacked. Hamas had been stealthily planning this attack for two years, unbeknownst to Israel. How could this happen? How did the lion stay so quiet?
Another passage that jumps from its page is Matthew 24:6-8, which quotes Jesus as saying:
6. And ye shall hear of wars and rumours of wars: see that ye be not troubled: for all these things must come to pass, but the end is not yet.
7. For nation shall rise against nation, and kingdom against kingdom: and there shall be famines, and pestilences, and earthquakes, in divers places.
8. All these are the beginning of sorrows.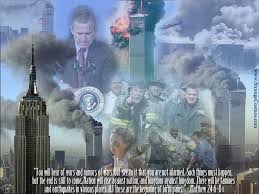 Now, the Scripture says, "wars and rumors of wars," "
and nation against nation, and kingdom against kingdom." So we have Israel against Palestine, more specifically Hamas, the terrorist group, Russia against Ukraine, China threatening Taiwan, and Afghanistan recently had four earthquakes in one week. Oh yes, the lion is roaring! Jesus said these are the "beginning" of sorrows, "but the end is not yet."
These words are to prepare us, the followers of Jesus, for a difficult passage of time before His return. A key phrase in this passage comforts us, which is: "see that ye be not troubled." As political situations worsen, as wars ravage the world, let us, as Jesus' disciples and followers, not be afraid that somehow God has lost control or that his promises will not come to fruition. Just as false messiahs and religious deceptions come and go, so do political and natural crises. Even when the world seems to be in chaos, God is in control. Such things must happen as part of God's divine plan. However, the wars and rumors of wars do not signal the end (the end of the world). The nations at war and the earth's turmoil, revealed in increased earthquakes and famines, would also not signal the end.
Responding to the Lion
While we must never trivialize suffering, all these troubles must not alarm us Christians. Because Jesus has warned us about them, we know that they must precede the arrival of God's glorious kingdom.
Also, there is another passage that sheds wisdom we should behoove to follow, which is Ephesians 5:15-17, which reads:
15. See then that ye walk circumspectly, not as fools, but as wise,
16. Redeeming the time, because the days are evil.
17. Wherefore be ye not unwise, but understanding what the will of the Lord is.
Walk circumspectly refers to how we live. Our responsibility is to live as children of light (5:8) and to expose darkness. Therefore, we must be very careful how we live. Our lives must please God (5:10), and we must conduct ourselves in the presence of unbelievers so as to shine with Christ and draw others to him. This passage encourages us to live not as unwise but as wise. In other words, we must take our knowledge of Christ and apply it to our everyday lives and be especially aware of our conduct with unbelievers. Paul wrote to the Colossians (Col. 4:5 NIV), "Be wise in the way you act toward outsiders."
The Ephesians passage further instructs us to "redeem the time."
In other words, make the most of every opportunity. We must carefully use our time, making use of opportunities for doing good. This advocates that we should not allow ourselves to be controlled by our circumstances; instead, we should use time as the valuable commodity or resource it is. We must use every opportunity to help draw people from darkness to light. Because the days are evil and unbelievers desperately need help as time is moving swiftly.
We must be wise to what the Lord's will is and apply it.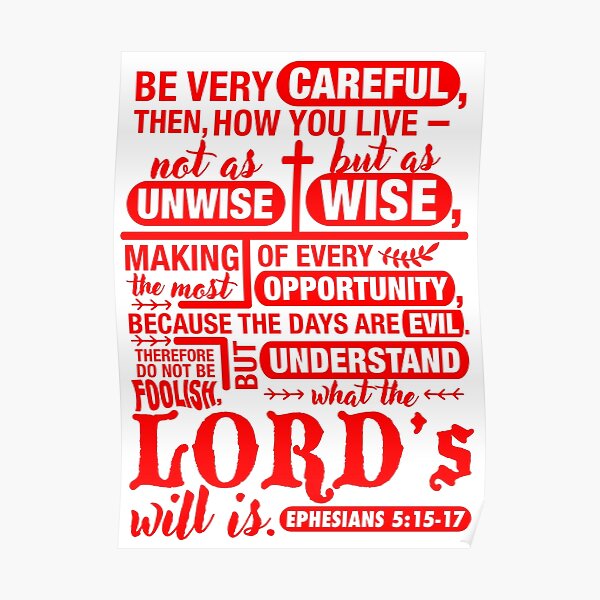 Returning to the opening Scripture, 1 Peter 5:8, Peter warned Christians to be alert for Satan, especially in times of suffering and persecution, for he walks up and down the earth seeking whom he or his demons can attack and defeat. We see this in the opening passages of Job (Job 1:7). This is  spiritual warfare.
When we Christians feel alone, weak, helpless, and cut off from other Christians, we can become so focused on our troubles that we forget to watch for danger. In those times, we are especially vulnerable to Satan's attacks, which come in various forms, often at a person's weakest spot — such as during temptation, fear, loneliness, worry, depression, and persecution. Therefore, Peter and Paul also urged the believers always to be alert for Satan's tricks and attacks.
The lion roars mightily in the Middle East. But what we must be aware of is that just as the lion has seeked and roared in the Middle East, just as he sneak attacked Israel, he can do the same in the United States of America and any country in the world.
So we must be first "sober," which means serious, clearheaded, and self-controlled. And we must be "vigilant," which means watchful, alert, cautious, and aware. We must be sober and vigilant against what may befall us.
Bear in mind that lions attack sick, young, or straggling animals; they choose victims who are alone or not alert. Peter warns us to watch out for Satan when we are suffering or being persecuted. If you are feeling alone, weak, helpless, and cut off from other believers, or if you are so focused on your troubles that you forget to watch for danger, those are the times when you are especially vulnerable to Satan's attacks. So, how do we mitigate our vulnerability?
One of the tools to help detect vulnerability is to heed the acronym H–A–L–T. We must not allow ourselves to get excessively:
H-hungry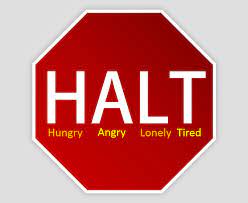 A-angry
L-lonely
T- tired
When these conditions begin to increase—halt and take action to remedy them.
During times of suffering, seek other Christians for support. Keep your eyes on Christ, and then, as James says, "resist the devil, And he will flee from you" (James 4:7).
The last but not least, Scripture that jumps off the page these days is Eph. 6:13, which reads:
13. Wherefore take unto you the whole armour of God, that ye may be able to withstand in the evil day, and having done all, to stand.
Daily, we must put on, as the Scripture reads, "the whole armour of God."
So, what is the whole armor of God? It consists of righteousness, the gospel, our faith, our salvation, and the sword, which is the Word of God.
Therefore, forget American Express! It's the WHOLE armor of God we need—don't leave home without it!
Another Lion
In closing, above all, the most important thing to remember is that there is another lion stronger than the devil. This lion will roar louder than the devil: the lion of Judah. Jesus is the lion of Judah. Prov 30:30 reads, "A lion which is strongest among beasts, and turneth not away for any;"
The lion is the strongest of the animals and doesn't turn away from anything. Jesus is the Lion that hasn't turned away from anything. Jesus has overcome temptation, sin, pain and suffering, fear, death, and Satan, the devil himself.
For a quick background, Jacob had twelve sons who eventually headed the twelve tribes of Israel. Judah was the fourth of these sons by his wife, Leah. Judah was the most prominent and most substantial of the twelve tribes and the tribe from which Jesus, the Savior of the world, was born.Judah was the strongest of the twelve tribes and the tribe from which Jesus was born. When Jacob blessed his sons, he said to Judah, his fourth son in Genesis 49:8-10
8 "Judah, your brothers will praise you; your hand will be on the neck of your enemies; your father's sons will bow down to you.
9 You are a lion's cub, O Judah; you return from the prey, my son. Like a lion he crouches and lies down, like a lioness — who dares to rouse him?
10 The scepter will not depart from Judah, nor the ruler's staff from between his feet, until he comes to whom it belongs  and the obedience of the nations is his. NIV
"The Septer," the kingship, the throne "will not depart from Judah." Judah produced kings. This prophetic blessing was fulfilled with the birth of Christ. Jesus was a descendant of Judah, as was King David and King Solomon.
When Gabriel announced Christ's birth to Mary, he said in Luke 1:31-33
31. And, behold, thou shalt conceive in thy womb, and bring forth a son, and shalt call his name JESUS.
32. He shall be great, and shall be called the Son of the Highest: and the Lord God shall give unto him the throne of his father David:
33. And he shall reign over the house of Jacob for ever; and of his kingdom there shall be no end.
In John's prophetic vision of heaven, the perpetuity of Jesus' kingdom is confirmed. In Rev 5:5, John wrote:
5. Then one of the elders said to me, "Do not weep! See, the Lion of the tribe of Judah, the Root of David, has triumphed. He is able to open the scroll and its seven seals." NIV
There is no end to Jesus' kingdom. Jesus is the triumphant, conquering king descended from Judah's lineage. He is indeed the lion of Judah!
Jesus made the one-time sacrifice that will destroy all enemies. Look at what it reads in Heb. 10:12-13
12. But this man, [Jesus] after he had offered one sacrifice for sins for ever, sat down on the right hand of God;
13. From henceforth expecting till his enemies be made his footstool.
In the end, Jesus will destroy all his enemies, including Satan, the devil. Satan can roar, but not as loud as Jesus! Satan is mighty, but the Lord is almighty!
And when Jesus returns and roars, the devil's roar will be a measly whimper.
So remember what Jesus said regarding His return in Luke 21:28, "And when these things begin to come to pass, then look up, and lift up your heads; for your redemption draweth nigh."
Therefore, we must never forget that we have hope, not in ourselves or our circumstances but in Jesus Christ, our Lord and Savior. We only need to be sober and vigilant, carrying the whole armor of God, living according to His will, and waiting for His return.
Therefore, in the meantime, let us heed the Scripture 1 Peter 5:8: "Be sober, be vigilant, because your adversary the devil, as a roaring lion, walketh about, seeking whom he may devour.
Amen
Questions, comments, concerns, and witnessing of the lion may be left below.
Blessings!
Please follow and like us: