Recently, an article published on this website concerned backsliding. This article will focus on a significant cause of backsliding, double-mindedness. This article will shed light on what is double minded about.
What is Double-Minded?
The expression double-minded, translated from the Greek word dipsuchos, means "a person with two minds or souls." Interestingly, this word appears only in the book of James (James 1:8; 4:8). Some Bible scholars have concluded that James may have created this word. To fully understand the meaning of this word, it is best to observe how it is used within its context, which will be done shortly.
What Causes Double-mindedness?
The main culprit of double-mindedness is our environment. Double-mindedness is manifested from the deception and brainwashing of Satan. His goal is to distract and deceive us. He knows discernment is the most crucial component of every decision we make, and he does all he can to distract us from using our discernment by distracting us from what is correct.
When we do not make clear and distinct decisions and waver between two possibilities, we become victims of double-mindedness.
The Danger of Double-mindedness
As mentioned earlier, double-mindedness is only mentioned in the book of James. So let's take a look at this passage to understand what he is saying, James 1:2-8
2 "My brethren, count it all joy when ye fall into divers temptations;"
3 "Knowing this, that the trying of your faith worketh patience."
4 "But let patience have her perfect work, that ye may be perfect and entire, wanting nothing."
5 "If any of you lack wisdom, let him ask of God, that giveth to all men liberally, and upbraideth not; and it shall be given him."
6 "But let him ask in faith, nothing wavering. For he that wavereth is like a wave of the sea driven with the wind and tossed."
7 "For let not that man think that he shall receive any thing of the Lord."
8 "A double minded man is unstable in all his ways."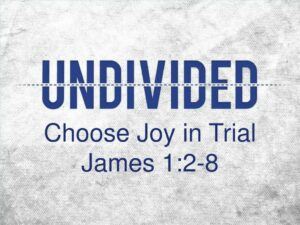 In this passage, James encourages his Christian readers as they go through trials and the benefits of responding correctly; they must have patience. Anyone who lacks the wisdom to respond correctly to conquer trials must ask God for it.
However, they must ask with faith and wholly believe that God will grant the request. Otherwise, the request will not be granted. Another Scripture that makes this point is Heb 11:6-7, which reads,
"But without faith it is impossible to please him: for he that cometh to God must believe that he is, and that he is a rewarder of them that diligently seek him."
God is not pleased without faith, but He rewards and answers the prayers of those who seek him sincerely, believing that He is and not wavering.
Therefore, the first danger of double-mindedness is unanswered prayer.
The second danger of double-mindedness is instability, according to verse 8. The problem with instability is that it is crippling. When a person is unstable in their walking, it is not easy to move forward. Instead, they stagger back and forth, side to side, and even up and down with little to no movement forward.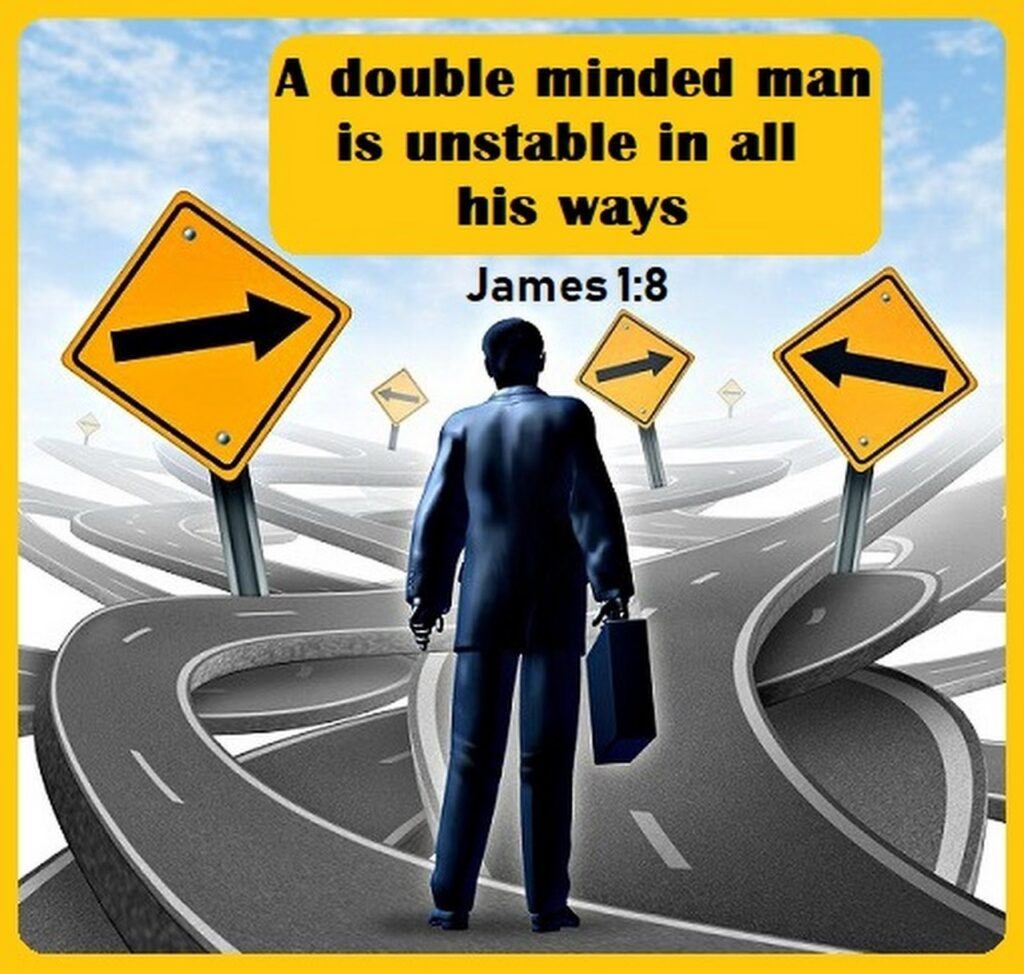 If we are walking down a path and we arrive at a fork in the road, if we remain at the fork, not making a clear decision of which path to follow, we will never arrive at a destination but be lost.
When we are double-minded in our Christian walk with Christ, we stagger and struggle between following Him and following the world. This condition prevents us from receiving from the Lord.
Another Scripture that addresses this is James 4:4
4 "You adulterous people, don't you know that friendship with the world is hatred toward God? Anyone who chooses to be a friend of the world becomes an enemy of God." NIV
Here, James gives another warning to the wavering Christian readers. "Adulterous" people; professing Christ, yet clinging to the world. This condition is spiritual adultery.
Jesus said it best in Matt 6:24,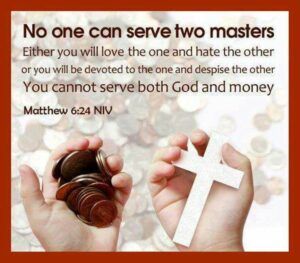 24 "No man can serve two masters: for either he will hate the one, and love the other; or else he will hold to the one, and despise the other. Ye cannot serve God and mammon."
Mammon is money, which in this context represents the world and material possessions. We can only serve one master, God, or the world, never both.
Avoid Being Double-minded
Christians are involved in a constant battle with the evil forces of Satan (Eph 6:12). This battle is spiritual warfare. Even though this battle is spiritual and unseen to the naked eye, it must be fought the same as in the natural. That means we must fight constantly and never stop fighting until the battle is over.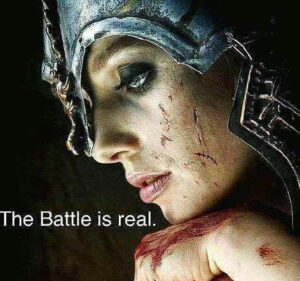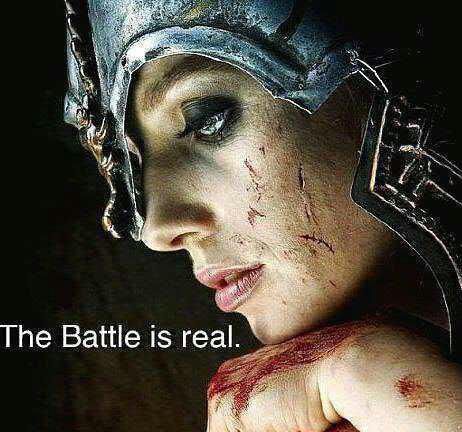 This fighting involves taking an inventory of our actions and priorities. What is most important to us, pleasing God, or pleasing ourselves? It also consists in controlling our environment. What are we allowing into our minds through our eyes, ears? How are we speaking? How much time are we spending reading & meditating on God's Word? How are we taking care of our bodies, the temple of the Holy Spirit?
These are the things that will keep us focused and winning the battle. These actions will please God and yield His blessings upon us.
As stated by Paul in 1 Cor. 2:14, Christians have the mind of Christ. Our love, devotion, and affection are to be for our Lord above all. Living for God means we are Christ-centered in our beliefs, thoughts, and actions. James 1:14 warns us that we are tempted when we are "drawn away by our lust and enticed." The word lust is the most compelling word we have for desire.
James further warns that this yearning blinds us, enticing us to pursue the object of our lust. We desire to relieve or fill an emotional, psychological, and in reality, ultimately, a spiritual need. However, our minds and hearts can become divided in directions other than Christ, creating a schism or split within us. We think we are serving God, but we are actually serving ourselves.
Above all we must adhere to the warning in the Scriptures, 1 Peter 5:8
8 Be sober, be vigilant; because your adversary the devil, as a roaring lion, walketh about, seeking whom he may devour:
With Satan nipping at our heels, we cannot allow ourselves to be double-minded.
Therefore, we must be attentive in our decisions, slowing down our minds, taking every thought "captive" (2 Cor. 10:5 NIV), and maintaining our focus on reality and the truth. Then single-mindedness will prevail.
Adhering to the above will keep us from the spiritual downward spiral and the state of double-mindedness.
Any questions, comments, concerns, or experiences with double-mindedness are welcomed below.
Blessings!
Please follow and like us: