Here in the US, we recently celebrated Thanksgiving Day.
When you hear the word thanksgiving what comes to your mind? When you hear the word Thanksgiving Day, what comes to your mind? Chances are when we think of Thanksgiving Day, for most, our thoughts are a far cry from its origins and its true meaning. The intent of this article is to enlighten the truth behind Thanksgiving Day.
Thoughts of Thanksgiving Day include: turkey, Thanksgiving dinner with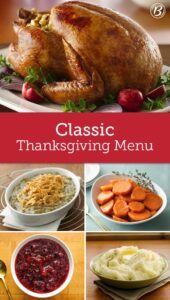 family and friends, the pilgrims, the Thanksgiving Day parade ((US) etc… Some of us are thankful and some of us are more thankful than others and some just like to eat. Eating is the strongest of these when we traditionally stuff ourselves at the Thanksgiving dinner table.
What is thanksgiving all about
But, what is thanksgiving really about? What does the Bible say about thanksgiving? In the King James translation, thanksgiving is mentioned 28 times covering the Old and New Testaments. I won't expound on all of them but let's look at three (3) of them
In the Old Testament, the book of Leviticus contained the law which included sacrifices that were to be made unto God for various reasons. One category was peace offerings which included thanksgiving.
Lev 7:11-13 reads:
11 And this is the law of the sacrifice of peace offerings, which he shall offer unto the Lord.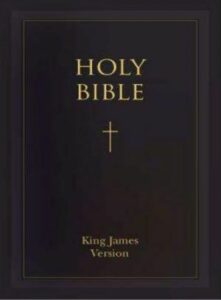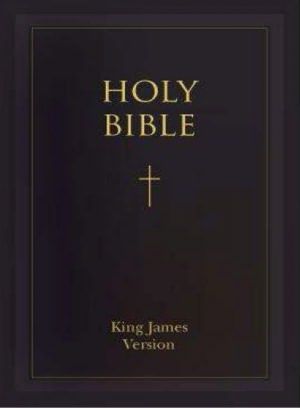 12 If he offer it for a thanksgiving, then he shall offer with the sacrifice of thanksgiving
unleavened cakes mingled with oil, and unleavened wafers anointed with oil, and cakes mingled with oil, of fine flour, fried.
13 Besides the cakes, he shall offer for his offering leavened bread with the sacrifice of thanksgiving of his peace offerings. KJV
This is the first mention of thanksgiving in the Scriptures. Thanksgiving offerings were given in gratitude for deliverance from sickness, trouble, or death, or for a blessing received.
Ps 100:1-4 reads:
1 Make a joyful noise unto the Lord, all ye lands.
2 Serve the Lord with gladness: come before his presence with singing.
3 Know ye that the Lord he is God: it is he that hath made us, and not we ourselves; we are his people, and the sheep of his pasture.
4 Enter into his gates with thanksgiving, and into his courts with praise: be thankful unto him, and bless his name. KJV
This is clearly a passage of praise. Within this praise is the acknowledgment of thanksgiving for creating us and providing us with His blessed provision as we are called: "the sheep of his pasture."
Now the New Testament: Phil 4:6-7
6 Do not be anxious about anything, but in everything, by prayer and petition, with thanksgiving, present your requests to God. 7 And the peace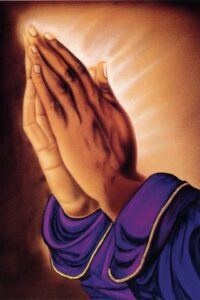 of God, which transcends all understanding, will guard your hearts and your minds in Christ Jesus. NIV
Christians are not to be consumed with anxiousness concerning self-centered, counterproductive worry, but with
thanksgiving take all of our requests to God. So while we are making our requests, we are to be thankful for the current blessings, give credit and praise to God for what he has already done. We can also, by faith, thank Him for answering our prayer request.
We are to be thankful even when things aren't going the way we think they should. Scripture further says: "In every thing give thanks: for this is the will of God in Christ Jesus concerning you." [1 Thess 5:18 KJV] God has a purpose and a plan for all of us and it includes all things. For "all things work together for good to them that love God"… [Romans 8:28]
This spirit of thanksgiving is a year-round activity; not only one day. God blesses 24/7/365. Having said that, the day of Thanksgiving that's celebrated is a far cry from its original inception.
Let's move ahead in history to the beginning of Thanksgiving Day as a holiday.
Abraham Lincoln the sixteenth President of the United States declared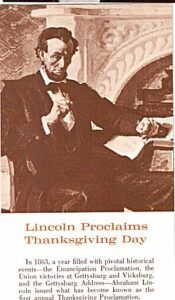 Thanksgiving Day a national Holiday on October 3, 1863, during the Civil War. Below is a segment of the proclamation.
"No human counsel hath devised nor hath any mortal hand worked out these great things.[He's referring to the blessing of the nation] They are
the gracious gifts of the Most High God, who, while dealing with us in anger for our sins, hath nevertheless remembered mercy. It has seemed to me fit and proper that they should be solemnly, reverently and gratefully acknowledged as with one heart and one voice by the whole American People. I do therefore invite my fellow citizens in every part of the United States, and also those who are at sea and those who are sojourning in foreign lands, to set apart and observe the last Thursday of November next, as a day of Thanksgiving and Praise to our beneficent Father who dwelleth in the Heavens. And I recommend to them that while offering up the ascriptions justly due to Him for such singular deliverances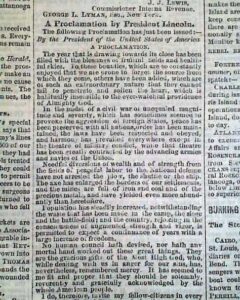 and blessings, they do also, with humble penitence for our national perverseness and disobedience, commend to His tender care all those who have become widows, orphans, mourners or sufferers in the lamentable civil strife in which we are unavoidably engaged, and fervently implore the interposition of the Almighty Hand to heal the wounds of the nation and to restore it as soon as may be consistent with the Divine purposes to the full enjoyment of peace, harmony, tranquillity and Union."
Notice the word: "with humble penitence." Thanksgiving Day was intended as a day of humbleness, contrition and praying—not gluttony. Another example of how we have taken the focus off of the creator and onto the creation. This is nothing short of idolatry.
Now, I have been to thanksgiving dinners where the emphasis was on "a short prayer" we dare not pray too long, the turkey is waiting, AND I have attended thanksgiving dinners where there was no prayer and all! Ironically, this is one of the days when we should pray the longest!!
It is interesting to hear the Israelites criticized for their foolish slide into apostasy when we're falling into the same state. We seem to be forgetting just how blessed we are and more importantly where the blessings have come from. Instead of criticizing Israel, we would be wise to learn from their mistakes and act accordingly.
However, our culture is following the ways of Israel by turning further and further away from God. We are adopting attitudes and behaviors that are extremely contrary to the will of God and more sadly, it is infiltrating the church. More and more are we becoming a secular nation and the churches are following down the same slippery slope. In my article https://thechristianadvocate.org/postmodernism-and-the-church/ more detail is given.
This can't be stopped as it is prophesied in Scripture of the coming apostasy. In the article https://thechristianadvocate.org/the-bible-and-end-times/
detail is given on this scenario.
In spite of this, Scriptures indicate that there is always a remnant of Christians that hold true to their profession. To them I say: "hold on!" Scripture reads in 1 Peter 1:13-16:
13 Wherefore gird up the loins of your mind, be sober, and hope to the end for the grace that is to be brought unto you at the revelation of Jesus Christ;
14 As obedient children, not fashioning yourselves according to the former lusts in your ignorance:
15 But as he which hath called you is holy, so be ye holy in all manner of conversation;
16 Because it is written, Be ye holy; for I am holy. KJV
So we are to think clearly, exercise self-control and look forward to the salvation that will come to us when Jesus Christ is revealed to the world. Therefore, we must live as God's obedient children and not slip back into our old ways of living to satisfy our own desires when we didn't know any better. We must be holy in everything we do, just as God is holy. For the Scriptures say, "For I am the Lord your God: ye shall therefore sanctify yourselves, and ye shall be holy; for I am holy: neither shall ye defile yourselves with any manner of creeping thing that creepeth upon the earth." Lev 11:44 KJV
So brothers and sisters, let us be thankful always, year-round and on that special day of thanks, let us have the proper attitude of thanksgiving as children of almighty God.
We need to take the focus off of the turkey and onto God!
Amen
Please, feel free to leave any question, comment, or concern below.
Blessings!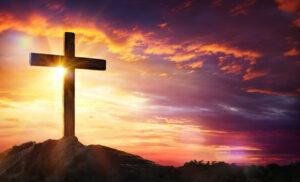 Please follow and like us: