To walk the Christian walk is to walk with God. But how do we walk with God? How do we know whether we are walking with God or not? This article will shed some light on the answers to those questions.
How do we walk with God?
To walk with God is to have a relationship with Him. To walk with God is to keep Him at the center of our thinking: in everything we do, everything we say, everything we think, in our relationships, our finances, our plans, and every area of our lives. He becomes the greatest desire of our hearts. Walking with God is the wisest way to walk.
The word "walk" is used in the Scriptures to describe a lifestyle. We can choose to walk with God or we can walk in the world—the flesh. Walking with God is often referred to as "walking in the Spirit" in the New Testament, (Galatians 5:16; Romans 8:4). When we choose to walk with God we choose to glorify Him in every way we can, regardless of personal cost.
The steps for walking with God
Accept Jesus as Lord and Savior – This is the beginning. If we want to walk with God, it can only be done through His Son, Jesus Christ. As He is quoted in John 14:6, I am the way, the truth, and the life: no man cometh unto the Father, but by me." 
God sent His Son, Jesus, to save us so that we may have eternal life (John 3:16) and be saved from eternal damnation. Therefore, the best route to take is to walk with God; if we are going to walk Him, we must accept His Son as our savior.
We must learn to listen to God – We must listen to God to walk with Him and follow Him. Therefore, the time we spend with God is essential. We do this through prayer and the reading and application of His Word, the Scriptures.
We must trust God – To walk with God and be a follower of Him, we must trust Him. Prov. 3:5-7 reads:
5 Trust in the LORD with all thine heart; and lean not unto thine own understanding.
6 In all thy ways acknowledge him, and he shall direct thy paths.
7 Be not wise in thine own eyes: fear the LORD, and depart from evil.
God frequently requires us to trust Him even though what He leads us to do may not make sense to us. However, if we are going to walk with Him, we must decide that we will trust Him whether we understand it or not.
It is about faith. Scripture says in Heb 11:6, "But without faith it is impossible to please him: for he that cometh to God must believe that he is, and that he is a rewarder of them that diligently seek him."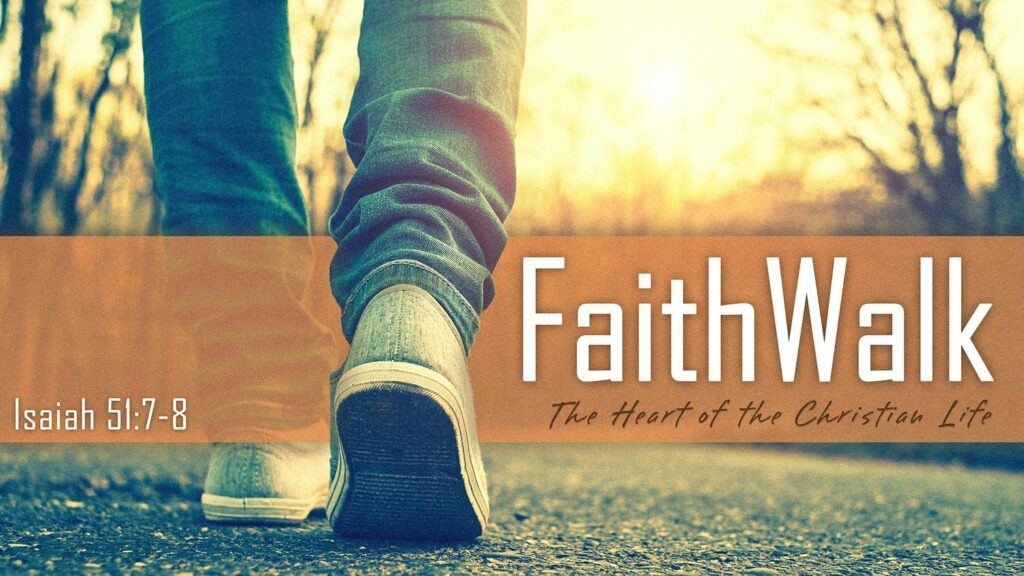 Scripture reads in Heb 10:38, "Now the just shall live by faith: but if any man draw back, my soul shall have no pleasure in him." Walking with God involves having a relationship with Him. A relationship requires trust and faith. This faith and trust is what pleases God and is essential if we are going to walk with Him. Faith is the prerequisite for pleasing God. If we do not believe in God's Word, we will not please Him. Faith in God's Word is crucial if we are going to pursue Him and walk with Him.
We must agree with God – We must be in agreement with God in order for us to walk with Him. God may very well require some things that are not agreeable to us. However, God is not required to agree with us. On the contrary, we are required to agree with Him. God is omniscient, omnipresent, and omnipotent. Therefore, it is in our best interest to agree with Him, especially if we are going to walk with Him.
We must obey Him – Obedience to God is essential if we are going to walk with Him. When we disobey God, we indicate that we know better than He does. The thing to remember is partial obedience is disobedience. Therefore, we are to obey Him completely. We are to do what He says to do when He says to do it, and the way He says to do it. Obedience to God should be a lifestyle for those who want to walk with Him.

Jesus said in John 14:21, "Whoever has my commands and obeys them, he is the one who loves me. He who loves me will be loved by my Father, and I too will love him and show myself to him." NIV As mentioned earlier, walking with God can only be done through His Son. Therefore, by knowing and obeying the Commands of the Son, we show our love for Him, and both He and the Father will love us, resulting in a spiritual relationship.
We must walk in the same direction with God– God has a different path and direction for everyone. Some ways may seem better than God's. However, if we desire to walk with God, we must walk in His way. Scripture reads in Prov. 19:21, "Many are the plans in a man's heart, but it is the Lord's purpose that prevails." NIV
We cannot walk in the ways of the world, hold a close friendship with the world, and walk in the ways of God. James 4:4 reads, "You adulterous people, don't you know that friendship with the world is hatred toward God? Anyone who chooses to be a friend of the world becomes an enemy of God." NIV If we walk in the ways of the world, we will be walking in the opposite direction of God; we become an enemy of God.
We must stay in step with God – In addition to walking in the same direction as God, we must be careful not to walk ahead of God or to walk behind Him, but we must keep in step. To be in step with God is to be together with Him. Living a godly life is a requirement of God in order to walk with Him and receive the blessings He has for us.
We have to love God – If we do not love God, we will not walk with Him. If we love Him, we will obey Him, wait for His timing, and keep an open ear to hear from Him. All of the things listed above we will do if we love Him. This is why Jesus said, "Thou shalt love the Lord thy God with all thy heart, and with all thy soul, and with all thy mind. This is the first and great commandment." Loving God is the first and greatest Commandment.
We must forsake sin – To forsake sin, we must keep our hearts clean by turning away from sin (repent) to receive God's best for our lives. To confess sin is the beginning, but we must also repent. Scripture says in Prov. 28:13, "He that covereth his sins shall not prosper: but whoso confesseth and forsaketh them shall have mercy."
Therefore, we must confess and forsake our sins to receive mercy and continue to walk with God.
We cannot have sin and holiness simultaneously. If we are going to walk with God, we must pursue a life of holiness; a life committed to and surrendered to God.
We must pray to Him – Communication is the fuel for a relationship. A relationship with God is no exception, and we communicate with God through prayer. The Scripture says in 1 Thess. 5:17, "Pray without ceasing."
This Scripture does not mean Christians should spend all of their time on their knees or with their eyes closed when it says, "pray without ceasing." In fact, Scripture is adamant that everyone should have work to do (vs. 1 Thess. 5:14; 2 Thess. 3:6-7, 11). It is feasible, however, for Christians to have an attitude of prayer at all times. This attitude is built upon acknowledging dependence on God, realizing his presence within, and determining to obey him completely. Subsequently, it will be likely to pray frequent, spontaneous, and short prayers.
Prayer is not to be exercised by the church or church leader only, nor is it carried out only in worship services. Rather, prayer can be a part of every believer's daily walk, and Paul noted how important this would be for one's spiritual life (Rom 12:12; Eph 6:19). As Jesus told his disciples, "they should always pray and not give up" (Luke 18:1 NIV). Christians should pray together in worship, spend time alone with God in prayer, and pray to God each day as the desire to rejoice or the need for help arises. Prayer should be a lifestyle, not a life jacket. For more detailed information on prayer, please read the article, Christians and Prayer, on this website.
This ties in with listening to God (addressed earlier). When we pray, and we ask and make our requests to Him, we must listen for His direction and answers. So often, we pray, but we fail to hear the answer. Effective communication involves listening as well as requesting.
Conclusion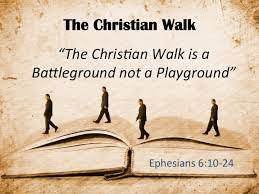 The Christian walk is a battleground.
The road to eternal life is always under construction; we all are a work in progress. The Christian walk is not easy, and it takes tenacity and patience. This virtue is one ingredient of the fruit of the Spirit. Only through the power of the Holy Spirit can we effectively walk with God. Scripture says in Phil 2:13, "For it is God which worketh in you both to will and to do of his good pleasure." God works in us through His Spirit.
Again, walking with God is the wisest way to walk.
Amen
Any questions, comments, concerns, or experiences walking the Christian walk can be left below.
Please follow and like us: