Jesus is the Only Way to the Heaven?
Jesus is the only way to the heaven, is that true? Well, it depends on whom you ask. Some say yes, others say no. Even among Christians, some will give an emphatic yes, while others will say not so fast.
It is perfectly understandable for individuals of another faith to say no. After all, if they didn't think their belief was correct, they wouldn't believe in it. However, it is a bit perplexing for Christians who profess Christianity and believe in Christ to say there is another way to heaven.
For an individual to believe in Christ, profess Christianity, and that the Bible
is the irrefutable Word of God, the answer should be abundantly clear. While this article is written for all to read, it is mainly directed at Christians.
What Does the Bible Say?
First, let's look at a passage that some believe supports that there is another way.
Rom 2:11-16
11 For there is no respect of persons with God.
12 For as many as have sinned without law shall also perish without law: and as many as have sinned in the law shall be judged by the law;
13 (For not the hearers of the law are just before God, but the doers of the law shall be justified.
14 For when the Gentiles, which have not the law, do by nature the things contained in the law, these, having not the law, are a law unto themselves:
15 Which shew the work of the law written in their hearts, their conscience also bearing witness, and their thoughts the mean while accusing or else excusing one another;)
16 In the day when God shall judge the secrets of men by Jesus Christ according to my gospel.
This passage addresses judgment and illuminates the truth that God shows no favoritism and that both Jews and Gentiles will be held accountable. It makes no difference whether one lives by the Law of Moses or the law of their conscience; if they obey, they are justified. However, if they sin or disobey, they will be judged.
There is an inward struggle against the conscience when it convicts of wrongdoing. The conscience is an inward monitor that lets us know when we have done wrong. What the law does for the Jew, the conscience does for the Gentile. However, while people can obey the Law without the Law, but with the law of their conscience (vs. 14), this does not mean they are saved another way. Further, if they disobey their conscience, they will be judged (vs. 12).
Notice the judgment in verse 16. According to the gospel he preached, Paul states that they (Jews and Gentiles) will be judged by whom—Jesus Christ. Paul preached the gospel of Jesus to the Jews and the Gentiles (Romans 1:14-17) for them to be saved. So the question becomes; what in this passage indicates that there is another way to be saved? [Comments and answers can be left below]
Judgment is inevitable, and it will be conducted through Christ's mediation. As Jesus said in John 5:26-27, "For as the Father has life in himself, so he has granted the Son to have life in himself. And he has given him authority to judge because he is the Son of Man."
For those who are trusting in Christ for their righteousness, God's judgment does not include the fear of exposure and punishment because they have accepted Jesus as Lord and Savior.
Either way, individuals who obey the law are not saved on that basis (on works). They are saved by their faith in Jesus Christ only. Gal 2:16 says, "Knowing that a man is not justified by the works of the law, but by the faith of Jesus Christ, even we have believed in Jesus Christ, that we might be justified by the faith of Christ, and not by the works of the law: for by the works of the law shall no flesh be justified.
The Scripture confirms that works save no one, whether by the law of Moses or the law of conscience, but only by faith in Jesus Christ.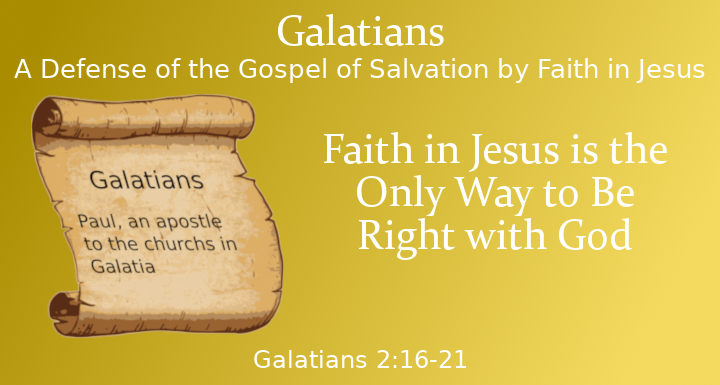 All individuals stand as condemned sinners before God. This truth includes the God-fearing, law-keeping Jews, and the Gentile sinners equally. However, all have hope in the same source: through faith in Jesus Christ.
Titus 3:5-7
5 Not by works of righteousness which we have done, but according to his mercy he saved us, by the washing of regeneration, and renewing of the Holy Ghost;
6 Which he shed on us abundantly through Jesus Christ our Saviour;
7 That being justified by his grace, we should be made heirs according to the hope of eternal life.
This passage is further confirmation of what saves mankind from sinfulness.
A foremost concern of Paul was for "another gospel" would be preached.
2 Cor 11:2-4
2 I am jealous for you with a godly jealousy. I promised you to one husband, to Christ, so that I might present you as a pure virgin to him.
3 But I am afraid that just as Eve was deceived by the serpent's cunning, your minds may somehow be led astray from your sincere and pure devotion to Christ.
4 For if someone comes to you and preaches a Jesus other than the Jesus we preached, or if you receive a different spirit from the one you received, or a different gospel from the one you accepted, you put up with it easily enough. NIV
Paul's concern was that the church's love should be for Christ alone, as a pure bride saves her love for one man only. By "pure virgin," he meant one who was unaffected by false doctrine. The Corinthians' unadulterated and straightforward devotion to Christ was being endangered by false teaching. Paul did not want the believers to lose their single-minded love for Christ.
Gal 1:3-8
3 Grace and peace to you from God our Father and the Lord Jesus Christ,
4 who gave himself for our sins to rescue us from the present evil age, according to the will of our God and Father,
5 to whom be glory for ever and ever. Amen.
6 I am astonished that you are so quickly deserting the one who called you by the grace of Christ and are turning to a different gospel—
7 which is really no gospel at all. Evidently some people are throwing you into confusion and are trying to pervert the gospel of Christ.
8 But even if we or an angel from heaven should preach a gospel other than the one we preached to you, let him be eternally condemned! NIV
Here we have an even stronger rebuke. Some individuals were preaching "a different gospel," and Paul stated they should be "eternally condemned."
Paul advocated that Jesus was the only way to be saved. This has not changed—there is no other way.
What did Jesus Say?
Let us now take a look at what Jesus Himself, said about this matter.
John 3:5-7
5 Jesus answered, Verily, verily, I say unto thee, Except a man be born of water and of the Spirit, he cannot enter into the kingdom of God.
6 That which is born of the flesh is flesh; and that which is born of the Spirit is spirit. 
7 Marvel not that I said unto thee, Ye must be born again.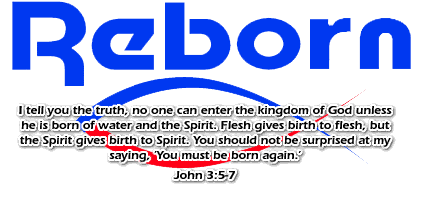 Jesus said that no one could enter the kingdom of heaven unless we were born again. We are born again by believing in Jesus, as expressed in John 3:16-18
16 For God so loved the world, that he gave his only begotten Son, that whosoever believeth in him should not perish, but have everlasting life.
17 For God sent not his Son into the world to condemn the world; but that the world through him might be saved.
18 He that believeth on him is not condemned: but he that believeth not is condemned already, because he hath not believed in the name of the only begotten Son of God.
Verse 16 is a very well-known Scripture in and of itself. However, let's look at it in its full context. Verse 17 states that "the world through Him might be saved." God sent His Son to save the whole world, not some of the world, not some through Jesus and some another way. What Scripture indicates otherwise? If there is one, please leave it in the comments section.
Verse 18 clearly shows that those who believe in Him are "not condemned." It also makes it very clear that those who 'believeth not" "is condemned already" before the judgment for not believing in the Son of God.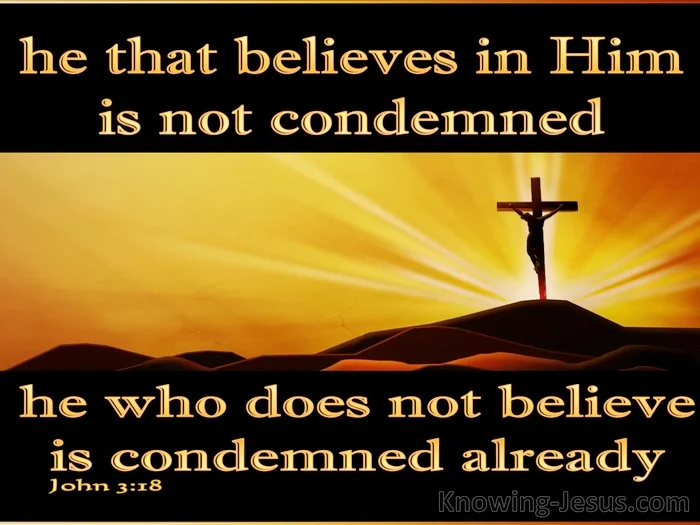 Therefore, is there another way?
John 14:6
6 Jesus saith unto him, I am the way, the truth, and the life: no man cometh unto the Father, but by me.
Here, Jesus is answering one of His disciples, Thomas, who asked Him how they could know the way. Jesus said He is the way, not a way, not one of the ways, not some of the ways, but "the way." No one gets to the Father but through Him (cf. Isa. 43:11). So why is Jesus the only way?
Because He said so, and His Father's Word (the Scriptures ) confirms it! Are they lying?
Acts 4:10-12
10 Let me clearly state to all of you and to all the people of Israel that he was healed by the powerful name of Jesus Christ the Nazarene, the man you crucified but whom God raised from the dead.
11 For Jesus is the one referred to in the Scriptures, where it says, 'The stone that you builders rejected has now become the cornerstone.'
12 There is salvation in no one else! God has given no other name under heaven by which we must be saved." NLT
This passage is a segment from Peter's sermon to the religious leaders, the Sanhedrin.
In verse 10, he boldly charged them for killing Jesus, the Messiah that God rose from the dead.
In verse 11, he used figurative language from Ps. 118:22, describing Jesus as the stone rejected by the builders. The builders, in this case, were the religious leaders. However, even though the stone was rejected, it turned out to be the most significant stone of all, the cornerstone.
The cornerstone is the most important stone in a building. It is used as the standard to ensure that the other stones of a building are straight and level. Israel's leaders, like a builder looking for a suitable cornerstone, rejected Jesus, because He was not the leader they were looking for (that's another article). However, as it turned out, Jesus was the most crucial stone that ties all of the stones together.
Verse 12 announces the result, "There is salvation in no one else! God has given no other name under heaven by which we must be saved." Can it get any clearer than this?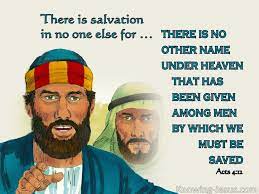 No other name under heaven! It is only through Jesus we can be saved. This is the gospel, the good news! Why are we denying it? Why aren't we just celebrating it?
Conclusion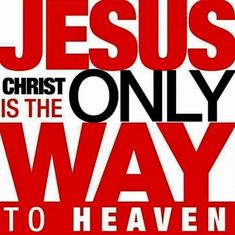 It is astounding that any individual that professes Christianity and the authenticity of Scripture can say that there is another way for one to be saved and inherit eternal life. This may seem narrow minded to some, but Jesus did say, "strait is the gate, and narrow is the way, which leadeth unto life, and few there be that find it" (Matt 7:14).
Further, for the Christian, consider this question: Why are you a Christian if there is another way and what is the other way?
Contrary to popular opinion, believing in a chosen truth does not make it true. There is only one truth, and that's the truth of Jesus Christ. He said "I am the way, the truth and the life." Believe in that truth in order to get to the Father. That's what He said. said "… No one comes to the Father but by me."
For those who aren't Christian, who have not accepted Jesus, take this advice from the Scriptures in Acts 2:38
38 "Repent and be baptized, every one of you, in the name of Jesus Christ for the forgiveness of your sins. And you will receive the gift of the Holy Spirit. NIV
Amen
Please share any questions, comments, or concerns below. You will receive a response.
For more information on being born again, please read the article, What Does it Mean to be a Born Again Christian, on this website.
Blessings
Please follow and like us: