The remnant of God is a theological concept that is carried throughout the Scriptures. But what exactly is the remnant of God? What is a remnant? This article will answer these questions.
What is a Remnant?
According to Webster's Dictionary, a remnant is a usually small part, member, or trace remaining. A small surviving group—often used in the plural.
What is God's Remnant?
From a Biblical perspective, God's remnant refers to people—God's people. It points to those who are faithful to Him and His original truth after a time of hardship. They remain loyal despite apostasy and opposition.
Through Abram, who later became Abraham, Israel has been God's elected nation from the start. It is a nation that God foresaw and a nation that God selected to be His people, and He chose to be their God. Israel was a remnant of the nations.
The concept of the remnant continued to the time of the Prophet Elijah. According to I Kings 19, Elijah thought the nation of Israel had departed from God completely. But, God let it be known that He had left a remnant.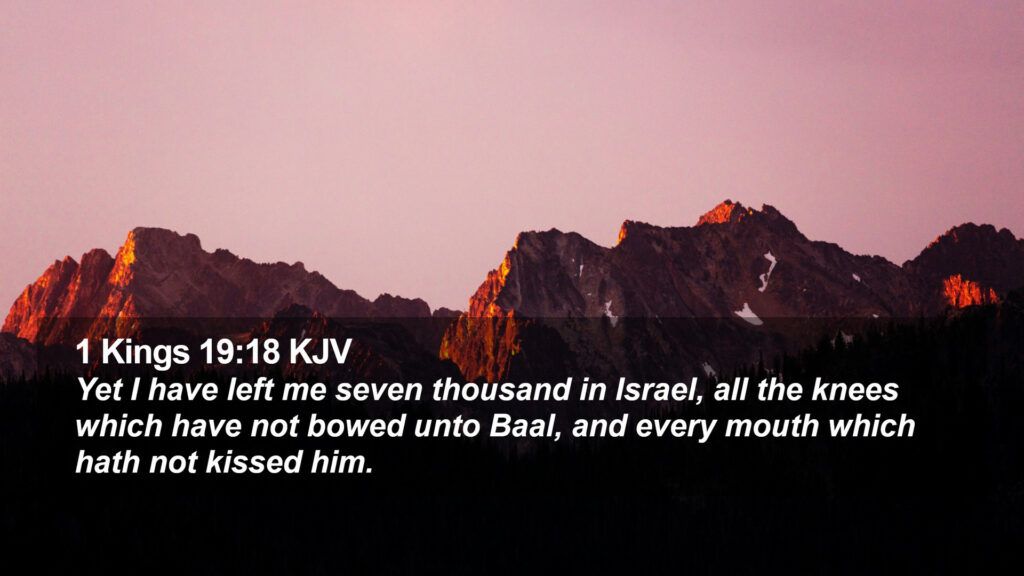 God informed Elijah in I Kings 19:18 that He had left for Himself, 7,000 people who would serve and honor Him. Those 7,000 were God's remnant.
Another Biblical example is in the first chapter of Isaiah, verses  1-8. God, through this prophet, delivered a blistering rebuke to Israel because the nation had swayed so far from Him. In verse 4. God said, "Ah sinful nation, a people laden with iniquity, a seed of evildoers, children that are corrupters: they have forsaken the LORD, they have provoked the Holy One of Israel unto anger, they are gone away backward."
But in verse 9, it says, Except the LORD of hosts had left unto us a very small remnant, we should have been as Sodom, and we should have been like unto Gomorrah.
Sodom and Gomorrah were utterly destroyed because of the sins that encompassed them. But because of the, as the Scripture reads, "a very small remnant," the faithful remnant, Israel was sparred. This result illustrates the power of the remnant—a nation spared because of the remnant.
Who is God's Remnant?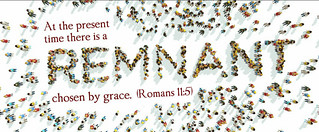 It is important to note that this principle doesn't only apply to Israel. Because of the Sacrifice of Jesus as our redeemer, all can become a part of God's remnant. The Scriptures tell us in Rom 11:5, "Even so then at this present time also there is a remnant according to the election of grace."
Just as it was in Elijah's and Isaiah's day, it was so in Paul's day. In spite of widespread apostasy, a faithful remnant among the Jews remained chosen by faith. This remnant, chosen by God, succeeded in obtaining righteousness through faith in the Lord Jesus.
We can repeat what Paul could say with confidence in his day today. No matter how grim and hopeless the situation might seem, because of God's sovereignty, we can confidently say that there is still a remnant chosen by grace in this present day!
Therefore, we, too, the gentiles, can obtain righteousness and be a part of God's remnant as well through faith in Jesus. As the Scripture reads in Eph. 1:4-6 NIV, For he chose us in him before the creation of the world to be holy and blameless in his sight. "In love (5), he predestined us to be adopted as his sons through Jesus Christ, in accordance with his pleasure and will— (6) to the praise of his glorious grace, which he has freely given us in the One he loves."
Therefore today, those who are a part of God's remnant are individuals who understand they are saved by grace and not by works. They do not abide by the false teaching that you must perform good works to go to heaven. They just do their best to live for God because they already know they are going to heaven.
Those who are a part of God's remnant are those who serve God and not just the church of their God.
Those who are a part of God's remnant acknowledge God in all their ways, even when their actions do not always please God. These are the individuals who always confess their sins to God, believing He is always faithful and just to forgive them and cleanse them from all unrighteousness.
Those who are a part of God's remnant are those who know they are righteous because, at their conversion, the righteousness of Christ was put on them. They have accepted Christ's righteousness instead of establishing their personal religious self-righteousness through church rituals and programs. They have also learned to put their trust in Christ instead of putting their faith in church practices and activities.
The members of God's remnant are those who are blessed beyond any measure in spite of their failures and weaknesses. They are blessed because they are pleasing to God because of their faith. The Scriptures clearly state that it is impossible to please God without faith, and He is a rewarder of them that diligently seek Him.
The Remnant and the End Time
Regarding the end-time, the remnant will be those who keep God's Commandments. Rev 12:17 reads:
And the dragon was wroth with the woman, and went to make war with the remnant of her seed, which keep the commandments of God, and have the testimony of Jesus Christ.
The book of Revelation is full of symbolic prophetic imagery, using symbolism to represent literal events. In Revelation, Satan is depicted as a furious dragon, while God's church and His people (the remnant) are denoted by a woman that the dragon hunts to make war with to destroy.
Those who are part of this remnant are recognizable by how they choose to obey God's commandments at all costs, pledging their allegiance to Him and turning away from sin.
How Relevant is the Remnant to the Church?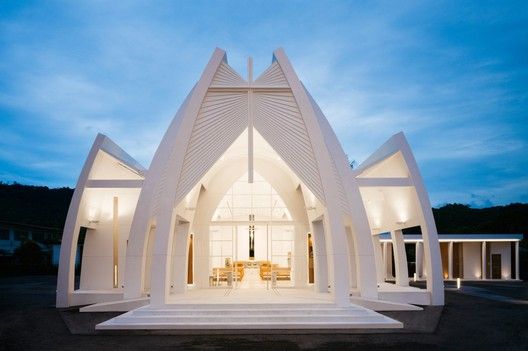 Today the church serves as God's chosen people. But akin to the people of Israel, the church has become a sinful nation that consists of believers fraught with iniquity, a seed of evildoers. They have abandoned the Lord and have provoked Him to anger. They have gone away backward.
But in the face of the state of the church, God once again has left a small remnant. A remnant that is far from perfect, but a remnant that trusts God.
For example, the Remnant is very relevant to the Seventh-Day-Adventist Church. They believe that the seventh-day Adventists are the remnant that came out of the Protestant churches and the final remnant people. In fact,  they refer to themselves as the remnant church, not that they are superior, but because of the grace of God in their lives in the final period of the world and because of their adherence to the Commands of God.
They also believe in spreading the message of the importance of keeping the Commandments of God and having the testimony of Jesus Christ.
But it in the end, really doesn't matter the denomination, the Scripture in Rev 12:17 reads,
And the dragon was wroth with the woman, and went to make war with the remnant of her seed, which keep the commandments of God, and have the testimony of Jesus Christ.
There is no mention of domination. Therefore, anyone who accepts Jesus as Lord and Savior, keeps God's Commandments, and has the testimony of Jesus angers the enemy and has God's favor (Rev. 14:12).
As the Scripture reads in John 3:16, For God so loved the world, that he gave his only begotten Son, that WHOSOEVER believeth in him should not perish, but have everlasting life.
Christ died for all!
A Remnant within a Remnant?
Is this an accurate term, or is it symbolic speech? Let's examine.
Israel, the nation, was the original remnant of the nations, but as time went on, the remnant shrunk to as, the Scripture reads, "a very small remnant.
There is no indication of a "remnant within a remnant." This small remnant was the subsequent remnant of Israel.
A remnant within a remnant seems to indicate that you can be part of a remnant and still be lost.
Although Israel was the original remnant, it became ensnared with sin; the majority of the inhabitants were lost, leaving again, as the Scripture reads, "a very small remnant."
Therefore, individually, we are either part of the remnant, or we are not. When we fall out of the will of God, we are no longer part of the remnant. When evaluation or judgment arrives, that is when the remnant is evaluated, and it is determined who remains and who doesn't. [e.g., the ten virgins, the wheat and the tares]
Consequently, "a remnant within a remnant is symbolic speech to express that there will always be members of an original remnant that will not follow through with their calling.
Revelation 2:25-26 reads:
25 But that which ye have already hold fast till I come.
26 And he that overcometh, and keepeth my works unto the end, to him will I give power over the nations:
Presently, those of us who are part of the remnant are encouraged by Christ to "hold fast," hold on until His return, for there is a great reward in the end. This is God's message to the remnant!
Let us pray that God will impart His strength upon us to be His remnant.
Remember: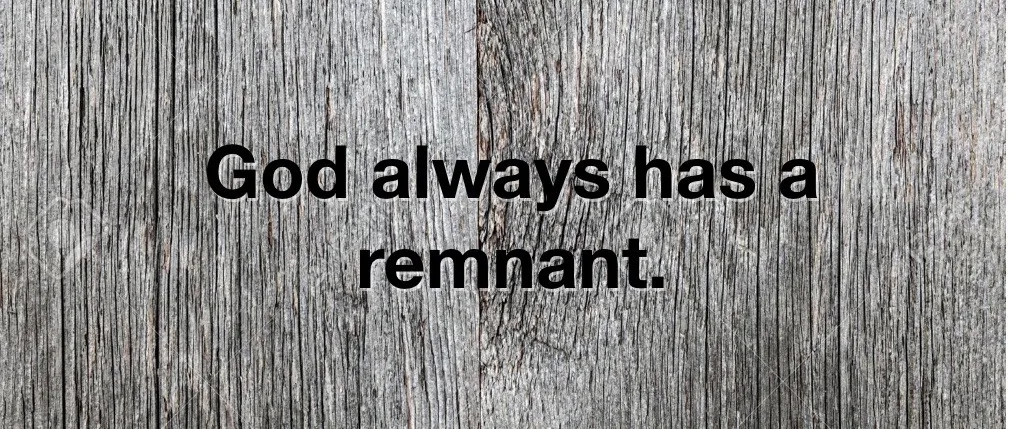 Amen!
Questions, comments, and concerns may be left below.
Blessings!
Please follow and like us: