Patience is a virtue. But how many of us really have it? How important is it? A virtue is an attribute that represents good moral behavior. Therefore, it is deemed high on the list of Christian behavior. Therefore, there must be something about it in the Bible. This article takes a look at patience and the Bible.
What is Patience?
Patience is the ability to wait. Additionally, it is the ability to wait for an extended amount of time without getting irritated or bored. It can involve tenacity during times of delay, tolerance of aggravation while not responding in contempt or anger. Patience exercises tolerance when under strain and when confronted with long-term difficulties.
Patience and the Bible
As mentioned in the introduction, there must be something about patience in the Bible since it is an attribute of good moral behavior. So, what does the Bible
say about patience?
For starters, patience is not a natural attribute but is a gift given to us as the fruit of the Holy Spirit. Let us look at confirmation of this in Gal 5:22-23:
22 But the fruit of the Spirit is love, joy, peace, patience, kindness, goodness, faithfulness, 23 gentleness and self-control. NIV
Patience is a gift from God, and it is only through His Holy Spirit we can exercise patience. In any event, it is vital in our Christian walk to have patience. Because of this fact, in the King James translation, patience is included in thirty-four Scriptures.
There are three areas in our Christian walk where we must use patience.
First, we must be patient with one another. Scripture says in Eph 4:2
2 Be completely humble and gentle; be patient, bearing with one another in love. NIV
Patience in this context addresses the quality that allows us to deal with one another's faults and failures and refuse to avenge wrongs. None of us is perfect in this world, so we as Christians must be patient with one another despite our faults. "Bearing with one another in love"
is putting patience in action. This action underscores the readiness to forgive and involves empathizing with the other individual. To demonstrate patience requires love, which should be the guiding principle for all Christians' actions, even when natural differences and clashes occur. Bearing with one another presumes that, on occasion, loving others will be a burden. Christians must be willing to carry the load without expecting a reward, thanks, or return in the spirit of patience.
The second area in our Christian walk where we must exercise patience is with ourselves.
Scripture says in James 1:2-4
2 My brethren, count it all joy when ye fall into divers temptations;
3 Knowing this, that the trying of your faith worketh patience.
4 But let patience have her perfect work, that ye may be perfect and entire, wanting nothing.
The Scripture says that when we experience various trials and circumstances, we are to have joy. This concept is one of the remarkable paradoxes of Christianity. When we suffer, we should have joy? In our naturalness, joy is the last response during a time of difficulty. Those of us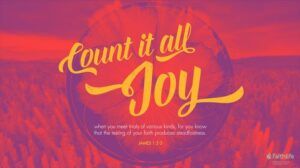 who trust in the Lord are to demonstrate a dramatically different, positive response to the difficult events of life. This requirement is why we need the Holy Spirit intervening in our lives.
This joy is not in anticipation of trials, but it is joy during trials. The source of this joy is assurance in the result of the trial (cf. Rom. 8:28). Additionally, it is the recognition that trials represent the opportunity for growth.
On the other hand, the majority are happy when they evade trials. However, the Scripture inspires us to consider it "pure joy" in the face of trials and difficulties. This Rejoicing is not mere happiness. Happiness is based on earthly circumstances. However, joy is Spirit-oriented instead of event-oriented since it is God-centered and acknowledges his presence in our experiences.
Exercising patience in this area of our lives can be most arduous because we face trials all through life. Therefore, we must realize that we cannot do this successfully on our own. We must remember that patience is a "fruit of the Spirit" and rely on the Holy Spirit to empower us.
Last but by absolutely no means least, the third area where we must exercise patience is with God. Boy is this ever where we need patience! Why?
There will always be times when we are required to make decisions, and we do not know what to do. If God gives us a signal in our spirit to wait, we should do so. However, most are unwilling to wait and want God to act on our timetable. However, the Scriptures instruct us differently in Prov. 3:5-7
5 Trust in the Lord with all thine heart; and lean not unto thine own understanding.
6 In all thy ways acknowledge him, and he shall direct thy paths.
7 Be not wise in thine own eyes: fear the Lord, and depart from evil.
We must remember that the Lord is omniscient and knows everything about us and our circumstances. If He requires us to wait, it is for the reason that He knows what is best for us.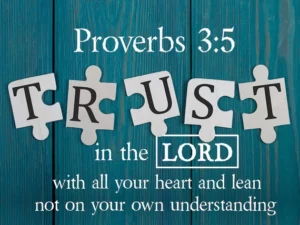 God is a better judge of what we should do than we are. Therefore, we must trust him fully in every choice we make. This circumstance is where our faith comes in. This does not mean we should abandon thorough thinking or ignore our God-given ability to reason, but we should not trust our own ideas exclusively. We must not be wise in our "own eyes" but be willing to listen and be corrected by God's Word and wise counselors. We must take our decisions to God in prayer (Philippians 4:6); use the Scriptures as our guide, and then follow God's leading. He will direct our paths by both guiding and protecting us.
Let's look a further Scriptural confirmation.
Phil 4:6-7 
6 Do not be anxious about anything, but in everything, by prayer and petition, with thanksgiving, present your requests to God. 7 And the peace of God, which transcends all understanding, will guard your hearts and your minds in Christ Jesus. NIV
Is it possible not to worry? Everybody has concerns and worries. Whether it is on the job, at home, or school, there is the temptation to worry. However, the Scripture advises us not to be anxious and change our worries into prayers. If we want to worry less, then we must pray more! Whenever we begin to worry, we must stop and pray.
Ps 27:14
14 Wait for the Lord; be strong and take heart and wait for the Lord. NIV
Waiting for God can be challenging, and it can seem that He is not hearing us and will not answer our prayers. That is why we are encouraged to "be strong and take heart." God frequently uses periods of waiting to revive, recharge, and enlighten us. During times of waiting, it is good to discover what God may be trying to teach us in them.
Ps 40:1-2
1 I waited patiently for the Lord; and he inclined unto me, and heard my cry.
2 He brought me up also out of an horrible pit, out of the miry clay, and set my feet upon a rock, and established my goings.
David's testimony here is that he cried out to the Lord and waited patiently,
and He heard his cry. The lesson here is that when we pray to God and wait on Him, He will hear our prayers, and He will answer. The key: wait patiently!
How do we live obediently and patiently?
While it is easy to say what we need to do, we also need to know how to do it. We must not only be hearers of the Word but doers (James 1:22).
Below are some pointers to consider achieving the goal.
We must have faith. This verb alluded to earlier is of utmost importance. In order to wait on God, we must have FAITH that He will keep the promises He has made to us. As shown in the earlier Scripture (Prov. 3:5-6), if we trust Him, He will direct us, He will answer our prayers. For more on faith, please read the article, What is Faith about, on this website.
Next, A willingness to be obedient. To follow the Spirit's guidance, we must have a spirit of obedience that will allow us to obey God and wait patiently.
We must have respect for God's Timing. When we make a request to God, we want immediate action. However, our timing can be off. God is omniscient and knows the best time to fulfill our request, if at all. Additionally, the Holy Spirit directs us concerning the appropriate timing for our requests, and if it is not God's will for us at the time, He also gives us the grace to wait.
We must love God. Obedience to God is proof that we love Him, and because we love Him, we are willing to wait for as long as necessary. In contrast, God demonstrates His love for us by holding back from us what we selfishly desire because it is not what is best.
We must have courage. In some cases, it takes courage to obey God and exercise patience while waiting for Him to direct our paths. As time passes, we can begin to feel desperate, as if we are heading for a brick wall and on the verge of a collision. Nevertheless, we must remember that our omnipresent God is by our side at all times.
We must have a determination to wait. Part of exercising our faith is to have the determination and the resolve to wait on the Lord for answers and direction. This determination should be maintained throughout our Christian walk.
Conclusion
Patience is crucial to living a life of obedience to God. We are required to listen, obey Him, and at times give up our individual desires and opinions to pause for His direction.
When we exercise patience, we see God at work in our lives, and we witness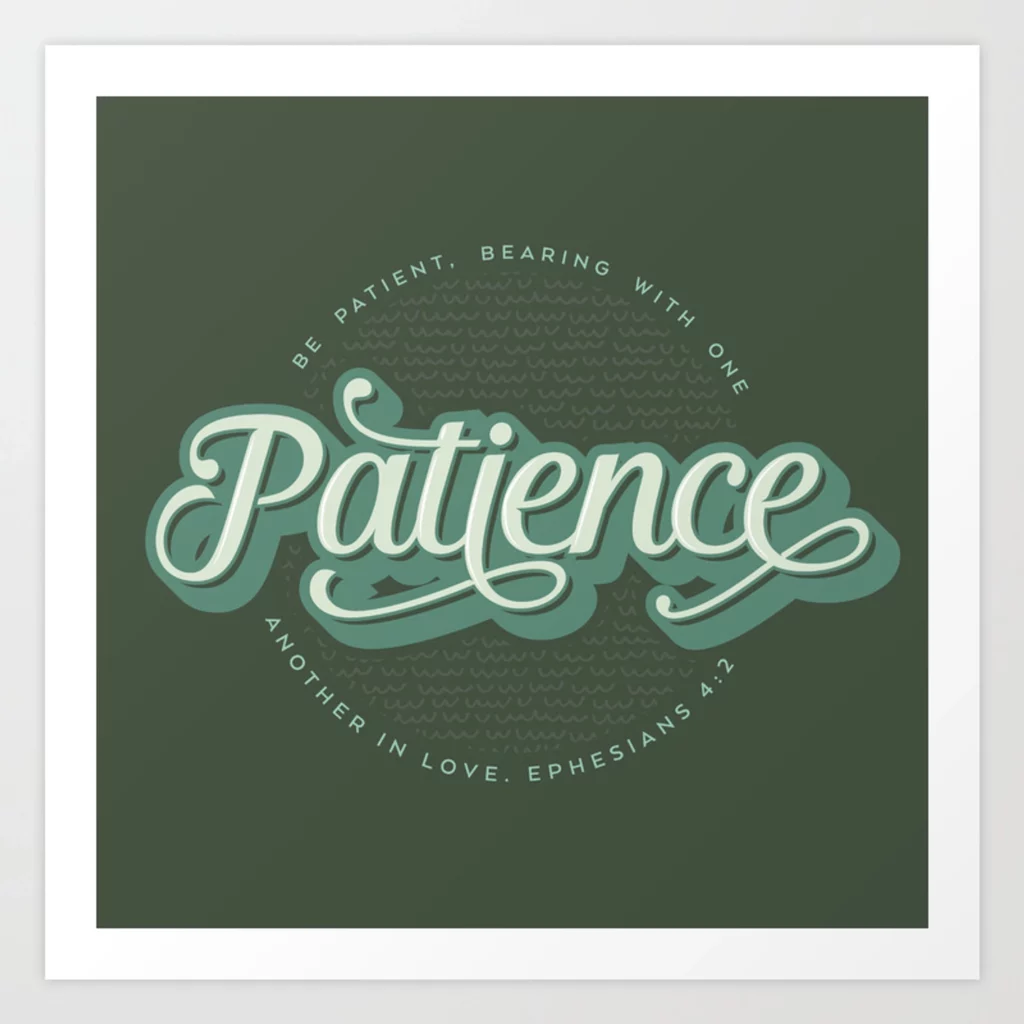 that God's way is best. We also have God's favor when we have waited for His direction because He has what is best in store for us.
Therefore, let us pray for patience so that we can receive the full blessings of God as we wait for Him to bestow His best upon us.
Amen
Questions, comments, concerns, as well as experiences with patience, are welcomed below.
Blessings!
Please follow and like us: